Stat of the Week: 4.7 Percent Annual Growth Rate
---
---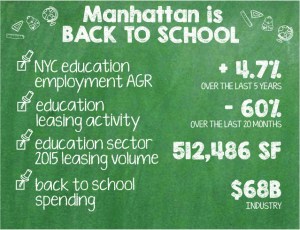 Back to school is in full swing and September is not only breaking the hearts of kids throughout New York City, but also the wallets of parents. As a father of two boys, back to school supplies, clothes and sneakers can cost as much as a weekend getaway. According to Prosper Insight and Analytics, back to school spending is a $68 billion industry in the U.S. in which the typical family with children in grades K-12 will spend an average of $630. Unfortunately for me this year, my family has surpassed the national budget.
With more than 1.4 million students aged 3 to 18 enrolled in schools throughout New York City and over an additional 187,000 in colleges and universities, the education sector is a big factor in this market. Over the last five Septembers, New York City education employment has grown an average of 4.7 percent each year, and instinctively that makes sense as schools rehire employees to ramp up for the start of a new fall semester. However, compare that to the five years prior when the employment growth rate was only 2.7 percent per year. The elementary and secondary education services sector is a big proponent of the increase, as employment grew 5.5 percent per annum over the last five years.
Despite education being the largest growing industry in New York City since 2010, leasing activity for this sector is down 60 percent. Over the last 20 months, only 512,486 square feet was leased in Manhattan by the education sector compared to over 1.28 million square feet in the 20 months prior. During this three-plus-year period, 41.6 percent of the leases were signed Downtown. This year, education sector leasing is tepid with only eight leases signed totaling just over 156,000 square feet, a mere 0.9 percent of the total leading volume.