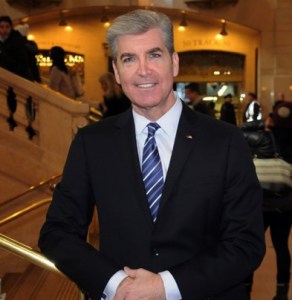 From the moment Cornelius Vanderbilt first opened the doors of the original Grand Central Depot in 1871 to today's beautifully restored Beaux-Arts landmark, the transit hub at Grand Central Terminal has been inextricably linked to the dramatic growth and continued vitality of the Grand Central neighborhood. Likely, no other community in the New York City area has been more closely associated with the existence and enhancement of mass transit facilities.
For the last three decades, the Grand Central Partnership's vision has been to create a sense of neighborhood, one that fosters a safe, clean, economically competitive and diverse business center.
Our capital program, responsible for our signature streetscape assets that are key components of realizing this vision, seeks to address the needs of transit riders once they are above ground, as well as pedestrians in general, around the transit hub. This effort has always been a priority for us and we are constantly reimagining how best to enhance the experience.
As the entire Grand Central area works on reimagining itself in this 21st century, enhancements to the public transportation infrastructure and the public realm are also core objectives for city officials looking to revitalize the district, and for developers who seek to build new, state-of-the-art buildings in proximity to Grand Central.
Just as the terminal spurred development of "Terminal City" with its office, retail and hotel uses, recently adopted amendments to city zoning laws designed to spur reinvestment and redevelopment are also irrevocably linked to improvements to public transportation infrastructure and the public realm experience.
We're already seeing this happen. Changes to the zoning of the Vanderbilt Avenue corridor, and specifically the approval of SL Green Realty's 1 Vanderbilt, provide for much-needed improvements to subway access at Grand Central and a pedestrian plaza to be enjoyed by those using the transit system and those seeking respite from the everyday grind.
And we welcome these changes with open arms.
Future zoning changes, too, will undoubtedly be linked to additional public realm and transit improvements, which will continue to enhance the experience of being here in this neighborhood. As it was in the late 19th century, the Grand Central neighborhood today is the clearest example of transit-oriented—or in our case, transit-created—development.
Because access and proximity to public transit is so deeply woven into the fabric and character of this community, it comes as no surprise that the ongoing success of the area will continue to be linked to public transit enhancements. As stewards of the quality of life in the neighborhood, we welcome this fact, and the promise it holds for keeping the Grand Central neighborhood the world's central business district.
Alfred C. Cerullo is the president and CEO of the Grand Central Partnership.
*
For all of Commercial Observer's coverage in the first-ever transit issue, click here.