Rickshaws, Ridesharing and the Return of the Trolley!
---
---
Established infrastructure—buses, subways—moves pretty much everyone around this city. Accordingly, big investments in transportation, like the $300 million, 14-mile, Woodhaven and Cross Bay Boulevard north-south bus route, are important. But the city and its residents have long known less traditional, more nimble, gap-filling services are important too, especially as jobs and residences expand to transportation deserts. The last mile, that too-long walk to the closest station, is a problem that could be solved with a variety of alternatives.
The city, according to a staffer, is open to many of them. Slamming the proverbial doors inhibits growth. The money, literally, is in the creation of trips and economic activity that would not happen otherwise. Extra capacity and extra seats are great, but imagine a Soundview, Bronx resident who can work in south Brooklyn and enjoy Rockaway Beach because of a ferry priced like other Metropolitan Transportation Authority alternatives ($2.75). This winter the city issued a request for proposals for a manager of a five-borough ferry system. Expected annual ridership of 4.6 million isn't quite 2014's weekday subway transportation of 5.6 million people, but it's a significant fraction nonetheless. People gotta move.
Once upon a time, for some three-quarters of a century, there were electrically powered trollies (not to be confused with cable cars) on principal streets in all five boroughs. Officially, buses replaced these streetcars in the 1930s and 1940s, but the real culprit was cars and trucks competing for track space, making the mid-street on-off process perilous. Yet there's something romantic about a streetcar return, especially if you don't consider logistics like funding or management or road rage.
But someone has to.
Last month a group of more than a dozen developers and urban planners hired Sam Schwartz Engineering, who was behind Barclays Center, and HR&A Advisors, who contributed to the building of Brooklyn Bridge Park, to conduct a transportation study, considering a streetcar connecting Astoria to Sunset Park.
"We're seeing enormous job and residential growth on the waterfront in Brooklyn and Queens, patterns of travel for work and fun that the transportation infrastructure just wasn't built to handle. We think a modern streetcar could be the answer and is worthy of a closer study," said Tucker Reed, the president of Downtown Brooklyn Partnership, a nonprofit that champions development in Downtown Brooklyn.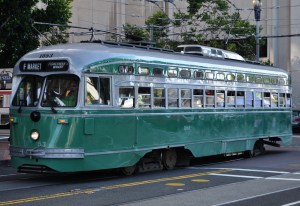 In the meantime, there's social transit. That's ridesharing: carpooling with a third-party witness, which has your financial information. Brooklyn-based Bandwagon, for one, launched Memorial Day as a pilot program at LaGuardia Airport, Terminal B. A company rep walks the taxi line seducing passengers with a chance to jump to the front and more than half the fare home, to $5. If destinations match (with a 200-yard radius; roughly one block) passengers get a text and meet at the next cab.
"This is a transaction between the passengers," Sarah Bacon, the director of communications for Bandwagon, told Commercial Observer. Tipping is agreed upon during the ride, which is calculated by the meter. There's no need to tell the driver what's happening (the first drop-off pays the second drop-off who pays the driver) though Bandwagon's goal is to work with the industry. They met the Taxi Workers Alliance last Monday to pitch this potential amenity. (Word did not come back about how successful this meeting was by press time.)
Three months in, Bandwagon is breaking even financially and getting good feedback from LGA and the Port Authority of New York & New Jersey. If all parties agree, after the year's trial the service will expand to other LGA terminals, JFK and Newark Airports. Bandwagon is also talking to the Taxi & Limousine Commission about a Jacob K. Javits Convention Center location. Fewer cars for the same number of passengers has been a goal of many a mayor: high-occupancy vehicle (HOV) lanes were in discussion in the 1970s.
Following City Hall's truce with Uber last month, Bandwagon was one of 15 transportation tech companies invited by Deputy Mayors Alicia Glen and Anthony Shorris to a preliminary discussion to shape for-hire vehicle (FHV) policy.
"We see real potential in ridesharing and other innovations to contribute to the transportation network," Wiley Norvell, the city's deputy press secretary, said. "And we want to engage in a serious and thoughtful conversation with the sector."
The goal is to have a coherent regulatory framework that helps the industry grow responsibly and that protects consumers.
"We've had productive conversations with both the mayor's office and City Council," said Gabrielle McCaig, the communications manager of Via, a rideshare app matching service. Rides are $5 plus tax with pre-paid "Ride Credits" or $7 plus tax, paid via app with credit card or commuter benefits like WageWorks and TransitChek (relegating the passenger to a six-plus person vehicle). Either way the service, like Bandwagon, depends on social skills. (Although there's no tipping in Via, so not to the same extent.)
"Everyone contributes to the efficiency of the system, including the passengers who walk to a nearby corner [to meet other passengers and cars]," said Ms. McCaig. Twenty-two months into its venture, Via gave its millionth ride, and the coverage area so far is limited: 110th to Houston Streets, river to river, from 6:30 a.m. to 9 p.m. on weekdays. Expansion, with the intention of complementing public transit, is ongoing.
"We look forward to continuing to work together with the city to ensure that any potential legislation does not handicap services like Via that are part of the [congestion and emissions] solution," Ms. McCaig said.
Of course legislation is meant to protect customers as well as transportation providers, no matter the vehicle. Even if that vehicle is the humble rickshaw, excuse us—pedicab.
"Everyone thinks pedicabs are just a scam, and a lot of them are, but after walking, biking and maybe horse carriages, it's the most responsible and enjoyable transportation option," said Gregg Zuman, who founded Revolution Rickshaws in 2005, a pedicab company. By his calculations, pedicabs are not only low impact on the streets but also the most efficient way to cross town. In Midtown, he said, the average speed is four miles per hour. A pedicab can go five to 10 miles per hour. Unfortunately, he said, "the pedicab marketplace is kind of a mess."
For one thing, there is no mandated pricing. Many charge $2 to $3 per minute, but there's no cap. For another, motorized pedicabs are illegal but unquestionably present and scary (unless a driver uses a smart charger for the battery, there's a high risk it will catch fire, Mr. Zuman said). And, finally, as reported by The New York Post, the New York City Department of Consumer Affairs has not issued even one violation to a driver or pedicab business in 2015, as of May 15, per the most recent data.
"It's pretty terrifying," Mr. Zuman said, citing lack of training and unlicensed drivers who don't know traffic laws. "Fundamentally the city has chosen to empower the legal service provider but doesn't invest in regulatory oversight."
According to the DCA website: Pedicabs cannot operate without a DCA-issued pedicab registration plate. Maximum registrations: 840. Further, pedicab drivers must have licenses, which are issued only to licensed motor vehicle drivers age 18 and over recognized by New York State. (See Gregg Zuman's Guide to Pedicab Ride Success below for best practices for this crosstown traffic buster.)
Transportation alternatives are mainly in Manhattan now but outer-borough deficits (particularly north-south) are not forgotten. Citi Bike launched in Queens this month and is headed to Greenpoint, Williamsburg and Bedford-Stuyvesant. (See story on page 30.) And whether it's a clang, clang, clang or a chug, chug, chug, something will make its way to other neighborhoods as the city redraws its transportation map.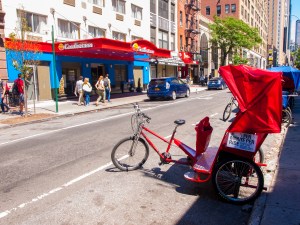 GREGG ZUMAN'S GUIDE TO PEDICAB RIDE SUCCESS
Gregg Zuman explains the six most important things to know and agree upon when traveling by pedicab in New York City:
1. Look for owner's information.
2 Look for a driver's license.
3. Ask for the Pedicab Information Card (later this is the receipt).
4. Look for a 100 percent visible rate card.
5. Confirm and agree on price before ride.
6. Use a stopwatch to verify minutes.
*
For all of Commercial Observer's coverage in the first-ever transit issue, click here.