Ripco's Andrew Mandell Can Play Every Grateful Dead Song and Lease You Retail Space
---
---
Back when he was a teenager, Andrew Mandell was a drummer in a band called VOTK. But today he plays guitar, instead of drums. And his audience has mostly shrunk to one: his 11-month-old baby boy Stevie. Stevie's favorite song? Bob Dylan's "Don't Think Twice, It's All Right."
Commercial Observer wondered if Mr. Mandell, a managing partner at Ripco Real Estate Corp., was any good at guitar when there just happened to be one in the office the June morning CO interviewed him. He performed the Dylan song, crooning the bitterest of sweet lyrics as he sat perched on a cabinet behind his desk in Ripco's Manhattan offices. He boasted that he can play every Grateful Dead song on the guitar and drums. (The hold music on Ripco's phone line has been Grateful Dead songs since the company's inception in 1991.)
For Mr. Mandell, 46, taking center stage didn't come easily. Perhaps it was the guitar that helped him let his hair down, as it were.
"It's not really him," said Peter Ripka, a partner at Ripco, who described Mr. Mandell as a serious, humble, but also competitive and intelligent fellow. "He's not looking to be the center of attention."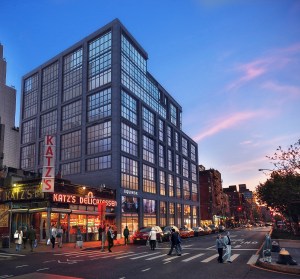 Perhaps that humility has afforded him choice clients. He is working on leasing 150,000 square feet in Manhattan. Two of his longtime clients include Panera, which recently opened an eatery on East 23rd Street, and Petco, for which he personally negotiated 15 deals.
One of Mr. Mandell's current assignments is leading the marketing of 25,000 square feet of retail space over three levels at 111 East 59th Street. But that job won't start until his client closes on the purchase of the property from Lighthouse International, slated to happen this week. The retail asking rents in the Perkins Eastman-designed space will range from $100 per square foot for the lower level to $125 a foot for the second floor to $400 per foot on the ground floor. The rest of the property will be converted into in an office building, Mr. Mandell said.
At 147 East 86th Street, Mr. Mandell was tapped to lease 30,000 square feet over three floors for Stillman Development International, Ceruzzi Properties and Kuafu Properties. The asking rent is $10 million net a year. There will be high-end residential condominium units above the not-yet-built retail space, and New York Sports Club will be on the third and fourth floors (through a sale-leaseback). This building was home to a Petco for 20 years before Mr. Mandell was prescient enough to see that the property would become a residential development so he moved the pet store across the street.
On behalf of Mangum Real Estate and Real Estate Equities Corp., Mr. Mandell is helping market 30,000 square feet spanning the ground floor and the lower two levels at 196 Orchard Street on the Lower East Side. Equinox recently closed a deal for 30,000 square feet on part of the ground part and the entire second and third floors. Richard Skulnik, a salesperson at Ripco, represented the landlords in that deal. Residences will be above. Asking rents for the retail spaces haven't been set yet. It's enough to make just about any broker want to sing.
Developer Lou Ceruzzi of Ceruzzi Properties has given a lot of leasing jobs to Ripco.
"We probably have done 3 million feet with Ripco over the last 15 years," Mr. Ceruzzi said. "We've done more with Ripco than any other firm." As for Mr. Mandell specifically, Mr. Ceruzzi said: "A lot of people are a little full of themselves in this business and Andrew is self-deprecating and self-effacing and just very comfortable to be with. He's just a good representative for us. He doesn't get too excited, he's willing to work with us, sit there and be patient, and really buy into our vision and be part of our vision."
Mr. Ripka said he knew he had to hire Mr. Mandell in 1998 when they met working on opposite sides of a deal—Mr. Mandell representing music and entertainment retailer Sam Goody and Mr. Ripka representing drugstore chain CVS—on the Upper East Side.
"The second I called him and talked on the phone, I knew," said Mr. Ripka, who is also partners with Mr. Mandell in a Long Island real estate venture. "I knew that he was for me. He was smart. He was honest. I felt like I was talking to one of my brothers. We met in the Palace coffee shop on 57th [Street] between [Third and Lexington Avenues]. And we decided to work together right there. It was the first time we met."
That was seven years after Ripco launched in Long Island and was looking to get a foothold in New York City. Mr. Mandell was the guy to lead that entrée. Today Mr. Mandell runs the 30-person New York City office at 150 East 58th Street, along with Mr. Ripka.
"I learned the most important lesson from Andrew about retail real estate for brokers," Mr. Ripka said. "He taught me how to compete. Coming out of the suburbs was a little simpler. The urgency on deals wasn't quite the same."
Mr. Ripka continued: "He once forced me to call Jeff Blau and Bruce Beal [of Related Companies] on a Chase bank deal. It looked like we might lose it to a competitor. They were developing the building.
He said I had to call Jeff. I might have let nature run its course at the time. I called and we made a deal at Astor Place. [Without Mr. Mandell] we never would have made the deal. He helped me gain my New York City knowledge and intensity. He helped fuel my fire."
Chase was a big client of Mr. Mandell's pre-recession. When banks were on a leasing spree, he and a team of six junior brokers negotiated 38 Manhattan Chase bank deals in 18 months' time.
Prior to Ripco, Mr. Mandell had a stint at Winick Realty Group, where he learned the retail beat.
Every Saturday and Sunday morning for three and a half years, Mr. Mandell said he and Winick head Jeff Winick would drive around and look at real estate. A neighbor in Ditmas Park, Brooklyn, had introduced Mr. Mandell, then 24, to Mr. Winick. A man of few words, Mr. Winick told CO that while he rides around with all of his brokers, Mr. Mandell "has a lot of talent and has proven himself over the years." (Today, Messrs. Winick and Mandell dwell in the same Sutton Place building.)
"I basically learned how to quickly solve problems within retail real estate deals, and I learned how to close a transaction," Mr. Mandell said. "And at the same time, I was really able to look at real estate through the eyes of someone who was just starting to work with Duane Reade."
Early on, Mr. Mandell realized that retail real estate was his bag.
"I immediately fell in love with two things," Mr. Mandell said of his time with Mr. Winick. "I've always loved New York City, but what I learned very quickly was that there was architecture, there was construction. And for me back then, the city was really undergoing very, very positive changes. And so I felt like I was playing a role in that by changing the landscape with new stores, be it that most of the ones I did were on my own. I closed 18 deals in my first year in the business. The other thing is the adrenaline, the thrill that I experienced from working on a real estate deal in Manhattan. I refer to myself as a deal junkie. I will always be one, and you know, I just couldn't get enough of it."
And Mr. Mandell still appears to have the love of the game when he talks about real estate.
"The exciting part is the moment I know the terms of the deal have been accepted by both parties and then the lease negotiations," he said.
Seeking an institutional experience, Mr. Mandell left Winick for what was then Grubb & Ellis (later sold to BGC Partners and merged with Newmark Knight Frank) for two years. He then met Mr. Ripka and welcomed what he called the opportunity to "work in an environment that allowed me to be a true entrepreneur."
'I immediately fell in love with two things. I've always loved New York City … the other thing is adrenaline, the thrill I experienced from working on a real estate deal in Manhattan.'
—Andrew Mandell
Mr. Mandell got his start in real estate, however, at age 19, working for Syfeld Consultants, his family's small out-of-state shopping center construction and development business. But he had grander ambitions for himself.
"It wasn't a big enough business for me to enter it," Mr. Mandell said.
He had hoped to become a college psychology professor, and was on his way there after graduating from Brooklyn College, when his father got sick with cancer. Mr. Mandell was in Ann Arbor, Mich., ready to start a yearlong research internship with a professor at the University of Michigan, when he received a call informing him about his 54-year-old dad's condition.
He felt that he had to return home to Ditmas Park, Brooklyn, to be there for his family. Perhaps bad news really does come in threes: The day after he learned his father was sick, his best friend died in a car accident, then his mother found out she had cancer. His dad died two years later. (His mom is still alive at age 73.)
Today his younger sister is involved in Syfeld Consultants, which has become a small management company with a few out-of-state properties, as is Mr. Mandell.
"Between 3 a.m. and 5 a.m., I mean that jokingly, I oversee it all on behalf of my family," Mr. Mandell said. "I make decisions for the company. I have real estate brokers that work for me in these areas. I have attorneys that work for me in these areas. I have construction people that work for me in these areas. It's a very small business, though. It doesn't make a ton."
After a decade or so on the Real Estate Board of New York's retail committee, Mr. Mandell was appointed to a two-year term as its chair in September of 2014, according to REBNY.
"Retail real estate has become a real estate asset class," Mr. Mandell said. "There are big sales happening that are retail only."
Bruce Spiegel, the senior managing director of retail and commercial services at Rose Associates, said he considers Mr. Mandell among the three or four sage real estate professionals he consults about the market.
"Rather than give me a perfunctory answer he'll take the time to take interest in what I'm asking," Mr. Spiegel said. "His opinion is always offered in a way that's based in data rather than hyperbole. It always comes with the caveat, 'this is how I would think of the situation, but others might feel differently,' which is a refreshing point of view. Many have the ability to only hear their own voice."
The duo worked on opposite sides of a Chase deal about a decade ago and more recently Rose tried to secure deals with Panera, which didn't pan out. They have spent time together as members of REBNY's retail committee, with Mr. Siegel serving on it for more than two decades.
While Mr. Mandell's career may be somewhat in cruise mode, in his personal life he is embarking on a new adventure with little Stevie.
He and his wife of two years, Rachael, an attorney, had Stevie on July 31, 2014. Mr. Mandell was in his first meeting as chairman of REBNY's retail committee when his phone buzzed indicating his wife's water broke. The baby's arrival has been a bit of an adjustment for Mr. Mandell (read: no more golf) as well as for the couple's Havanese, four-year-old Buddy.
Mr. Mandell said he is not wistful about a career as a psychology professor.
"What I enjoy most about my job is that I get to teach young people real estate, and I have for a long, long time," Mr. Mandell said. "And when a person such as Richard Skulnik starts out of college [at Ripco] and works his way to the…point where he's the lead broker on a deal [the Equinox one at 196 Orchard Street]—that I think is a very, very significant deal in this city—that's probably the proudest moment for me from a career standpoint." (Side note: Mr. Skulnik introduced Mr. Mandell to his wife.)
Mr. Skulnik said he has learned everything about the real estate industry from Messrs. Mandell and Ripka.
"Andrew is a deal technician," Mr. Skulnik said. "He understands the brokerage side of it, the legal side of it [as well as] architectural, mechanical [and] construction. That's something he's taught me—you need to understand all these attributes to be a top broker."