Nestlé Skin Health Opening Facility in the Alexandria Center
---
---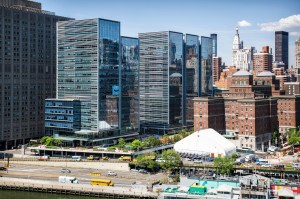 Nestlé Skin Health, which does research for skin, hair and nail wellness, has inked a deal for 30,400 square feet at the Alexandria Center for Life Sciences on the East Side, CBRE announced today.
The subsidiary of Nestlé, which also owns Nestlé Chocolate, is taking a full floor of the west tower of the facility at 430 and 450 East 29th Street. The company will open the innovation hub in 430 East 29th Street later this year, according to a press release by CBRE.
John Isaacs of CBRE represented Nestlé Skin Health in the deal. William Hartman of Cushman & Wakefield is listed as the broker for the Alexandria Center on its website.
Asking rents were not immediately available in the 16-year lease. The west tower of the center is nearly completely leased, according to CBRE.
The facility is one of 10 facilities Nestlé Skin health has planned globally, with other locations in Hong Kong, São Paulo and Europe.
"Nestlé Skin Health will be joining a strong network of world-class life science and technology companies, and we look forward to welcoming them to the Alexandria family," said John Cunningham of the Alexandria Center's parent company, Alexandria Real Estate Equities, in prepared remarks. "By establishing a mission-critical presence in New York City, Nestlé Skin Health is strategically positioning itself among large concentrations of first-class academic medical centers, world-class talent, key industry leaders and other life science players."
This isn't the first big global tenant that's recently opted for the Alexandria Center. Paris-based oncology therapy firm Cellectis moved into a 12,000-square-foot space, joining other tenants such as NYU Langone Medical Center, Roche Translational and Clinical Research Center and Pfizer's Center for Therapeutic Innovation.