Cynthia Foster is Using Years of Cushman Experience to Revamp Colliers
---
---
About 20 years ago, there was a running bet by a handful of executives at Travelers Insurance that a representative from Los Angeles-based Cushman Realty would eventually fail at selling an Alaskan mall that had multiple mortgages. (Marc Weill—the son of company head Sandy Weill, who also headed Citigroup—was the de facto bet-maker.)
The broker, Cynthia Foster, had used a connection from her days as an intern at Chemical Bank to score an audience with Travelers in a bid to market real estate it was selling off. If she could sell the mall, they intended as a joke, she could play ball.
"I got all this data," she said. "I found somebody who actually knew the governor of Alaska. I get all these statistics. They said, 'It's unsellable. It has seven mortgages on it.' The seventh mortgage was provided by a synagogue in Long Island."
But the skeptics underestimated her. She was able to sell off the mall to a buyer from Baton Rogue, La. (she declined to say for how much) and earned the Travelers team's respect.
Ms. Foster wound up not getting the sweetest plum of a deal like that, i.e., the company's long-term business (Travelers partnered with Tishman Speyer, which took the bulk of its sales business)—but the consolation prize might have been even better: She wound up working with Citigroup—selling 388 Greenwich Street in 2007 just before things started to get bad for the nation's biggest banks.
"Stock prices started going down," Ms. Foster said. "Credit started going down. Citi was going to be leasing that space back, [that's why] the credit was so important—but we managed to close that $1.8 billion deal in three and a half months." 
There's a kind of never-give-up work ethic that's made Ms. Foster a force in the real estate industry, whether it's through leasing, sales, restructuring or strategy. Colliers International took notice and earlier this year hired Ms. Foster to lead the national office services team. Six months in, Ms. Foster has trimmed some of the fat by streamlining presentations and broadening Colliers' exposure, in a bid to put the brokerage on pace with the nation's two biggest brokerages CBRE and JLL.
"She's a builder," said Joseph Harbert, the president of the eastern region division at Colliers. "She's a fantastic business development person. We're really happy that she's here. She works really hard."
In her role at Colliers, Ms. Foster is responsible for how brokers operate in markets outside of New York City, in what Mr. Harbert called "NFL cities." So far, he added, the company is a startup in Washington, D.C., where Ms. Foster has done several sales. She's also been able to drive some interest in the Boston market.
"That's where her major focus will be in the next seven, eight months," he said. "When you boil this down, this is about finding clients that need service and an excellent service provider."
One of the first things Ms. Foster lit into when she started was Colliers' endless sales presentations. After hearing feedback from one prospective Washington, D.C., client that a 13-minute video on Colliers was 12 minutes too long, the executive scrapped it.
She now employs a one-minute video that her brokers can use nationwide in order to spend more time focusing on the clients' needs.
"I've got such strong and sophisticated professionals, I don't want them at presentations spending their time talking about the Colliers story," Ms. Foster said. "I mean, talk about understanding the owner's perspective. Guess what: that's boring."  
Colliers has started using interactive reports—think a white board with touch-screen technology—that break down markets and submarkets at the touch of a finger. (They've been well received so far, even if in a recent Manhattan market briefing Colliers' chief economist fumbled once or twice with the slides.)
While the New York market isn't her primary focus, the fact that Ms. Foster is based in the city has naturally led to her putting some attention on the Big Apple. In the roughly 20 marketing presentations she's provided since starting, Ms. Foster said, Colliers has brought in the city's top and secondary landlords as audience members. The goal is to raise the brokerage's profile overall and let them know what Colliers can do in New York City.
"I think she has a real talent of bringing people together, bringing ideas together and getting things done," said Mike Fascitelli, the founder and chief executive officer of investment firms Imperial Companies and MDF Capital, who did deals with Ms. Foster during his 16 years at Vornado Realty Trust. "People in our business look at the firm. Beyond the firm they look to the people who are actually going to do the deal. Right now Colliers is not as strong of a franchise…but I think people are going to give them the benefit of a doubt because she's leading that charge."
Changing Colliers' image is one of the big things Ms. Foster will be involved in. There's no denying that CBRE is king of the concrete jungle, whether in New York or nationwide—the brokerage raked in $9 billion in revenue nationally last year. JLL was a distant second with $5.4 billion in revenue. DTZ's merger with Cushman & Wakefield (Ms. Foster's old firm) is expected to put its revenue on par with that of JLL. Colliers netted $1.6 billion, according to a June investors' report. 
'I've got such strong and sophisticated professionals, I don't want them at presentations spending their time talking about the Colliers story.'—Cynthia Foster
Ms. Foster believes that Colliers has the talent nationwide, as well as in Canada and Asia, to beef up every market it's in. For New York, that could also mean bringing in connections from cities such as Chicago, Boston and Kansas City to New York City.
"Everybody says, 'What's your goal for Colliers?'" Ms. Foster said. "And I say, 'It's to get our fair share and our unfair share.' We're going to leverage our global and national relationships. We are one of the leaders in one of the most exciting markets in the country."
The flurry of mergers (DTZ's purchase of  C&W was only the latest in brokerage buying) could eventually play a role, too. Expanding firms might find themselves overburdened, giving Colliers a space to carve out its role, Ms. Foster said.
"I do think there's room in the New York market for another serious player on both the leasing side [and] representing landlords," she said. "There's been a tremendous amount of consolidation of professionals at a couple of firms. At some point these conflicts arise. You're not able to focus as much, and I think there's an opportunity for another player."
When the national office head position opened up, Mr. Harbert said the role required someone who was skilled in client care and knowing what a prospective client needs. Ms. Foster popped into his mind and "it was extremely logical to call her up."
He added: "I think she became intrigued with the notion that this was a place for her to do what she loves."
Ms. Foster at the time was still with C&W, the company she joined after it bought Cushman Realty in 2001. She did some of her highest-profile work at the brokerage including the 388 Greenwich deal, in which Citi leased back nearly 1.9 million square feet, the sale of 250 West Street, as well as $2.8 billion worth of transactions nationally for TIAA-CREF and securing a 475,000-square-foot headquarters for Lazard (where she also worked earlier on in her career) at Rockefeller Center. The prospect of a leadership role was exciting and incredibly appealing, she said, but she admittedly toiled over whether she should leave the company she enjoyed so much.
"My husband finally said, 'You can always go back to C&W! Just go,'" she said. "I'm still learning about Colliers. I had no idea how huge and important our global footprint was. It's fantastic."
What makes Ms. Foster stand out in the industry is her ability to understand what exactly a client needs, her colleagues told CO. She's been able to do that over the years by being strategic about what's best for a client, as well as staying with a deal from beginning to end, said Arthur Mirante II, the head of the New York tri-state region of Avison Young who worked with Ms. Foster when he was the chief executive officer and then president for global client development at C&W. Ms. Foster also aims for quality over quantity.
"She's really a rare talent," Mr. Mirante said. "Rather than do a large number of transactions, she'll tend to focus on the larger, sophisticated transactions."
He continued: "She doesn't just refer clients to other people. It's investing time in number one, earning a client's trust and then it's not going away when it's time to execute. It's really being hands on from beginning to end."
Ms. Foster, who declined to provide her age, sees her professional strength as having been involved in most sectors of the industry from sales to strategic planning. The Manhattan native (she now lives in Westchester with her husband, two sons and a daughter) spent the better part of her career working in markets outside of New York City, particularly during her eight years at Cushman Realty.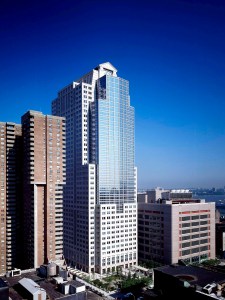 "Most people start their career with a tenant rep deal, a small one, and they get bigger and bigger and bigger and that's their entire career," she said. "I've had a strong finance background…super-strong strategy and advisory background, investment sales and huge tenant rep. This is a leadership role across the disciplines I know, so it's really exciting for me."
That leadership role also includes being one of the few female executives in the real estate industry.
Ms. Foster, who is involved in the Urban Land Institute and has spoken on panels for its Women's Leadership Initiative, said she's personally seen increases of women in leadership roles particularly on the institutional investment side of the business.
Where things have dipped off is in real estate finance and investment banking, but it's hard to pinpoint what's causing that trend, she said.
Some of the more seasoned real estate pros spoke of Ms. Foster with admiration not just for her leadership role as a woman, but also for her success in winning over clients and delivering results.
"She's a senior person in the industry," Mr. Fascitelli said. "She happens to be a woman on top of it. I don't care if you're a woman or a man, she can be a role model for you."