The Plan: The Factory in Long Island City
---
---
For a long time, the words "Long Island City" were simply code for warehouse/industrial wasteland. That's all in the past, but it's probably fitting that the next big office space in this Queens neighborhood should go by the name "The Factory."
The Factory is Atlas Capital Group and Square Mile Capital Management's 1-million-square-foot mammoth at 30-30 47th Avenue—taking up a full block bordered by 30th Place and 31st Street and 47th and 48th Avenues. The 10-story building is nearly completed after a yearlong overhaul that capitalized on the former textile warehouse. The smell of mothballs is gone from most floors (the building was owned by Macy's and parts were used as a fur vault), but most of the building's infrastructure has remained intact. Atlas opted to keep most of the floors wide open during the building's revamp and exposed much of the structure's original brick. The landlord also preserved many of the original hardwood floors in the overhaul. New conference rooms and private offices have been built into spaces on several floors.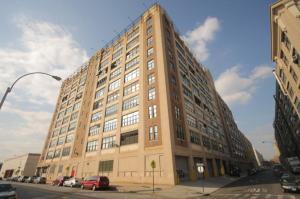 Some things, however, weren't safe from the chopping block when ownership bought the building last year. The 20,000-square-foot lobby has been redone and now features new dining options including some that are already open like Deluvio's Restaurant and a diner. Plus there's an art exhibit by John Carter, J.J. Veronis and Johnny Swing. The elevators have also been swapped out. The majority of the massive windows on every floor have already been replaced (you get a clearer view of Midtown than before).
The Factory's several roof spaces are being decked, and Atlas is offering them as a private amenity, as well as for outdoor event space. Because of The Factory's position near the East River, the roofs give "views of Manhattan that you can't get anywhere else but Long Island City," said Jordan Gosin of Newmark Grubb Knight Frank, part of a team marketing the nearly 90-year-old building.
Other amenities include secure bike storage and a shuttle running to the Long Island Railroad and the several subway lines surrounding the area. The Wi-Fi system has been awarded a Wired Silver Certification.
Blocks of space in the building are being divided into 3,500-square-foot to 80,000-square-foot offices. NGKF brokers told Commercial Observer they were targeting tenants working in technology, research, engineering and fashion.
Their goal, they said, is to have the building compete with Midtown South (a magnet for tech tenants) with comparable spaces, but cheaper rents.
"It's got high ceilings, it's got skylines," said Brian Waterman, who's part of the NGKF team. "It's got the grittiness a lot of [technology, advertising, media and information] tenants are looking for."