Spitzer Backs 421-a Reforms, Argues Rentals Impossible Without Tax Break
---
---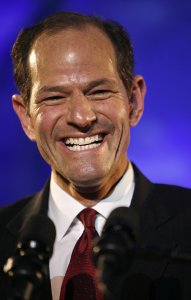 Eliot Spitzer thinks there need to be 421-a reforms if rental buildings are going to rise in the city. He should know, since it helped the former governor's new project on the Williamsburg waterfront get off the ground.
"If we believe that we still and we do have a housing crisis in the city," Mr. Spitzer said on a panel discussion at TerraCRG's "Only Brooklyn." panel this morning. "We need to increase the pipeline in rental housing. Given where the cost of land is, we will not see sufficient rental housing built without smart 421-a planning."
The tax incentive, which offers a break to developers who build affordable housing as part of a development, expired today at midnight after the state legislature failed to agree on an extension of the most recent provision. Mayor Bill de Blasio has pushed for reforms that expand affordability to a higher rate than the current 20 percent of a building in exchange for longer tax breaks.
The former governor backed Mr. de Blasio's plan to contain 421-a for developers who build rental apartments, instead of condominiums. While it has helped projects such as his own, the tax break is just part of the solution to the affordable housing crisis.
"The question is: does 421-a help? Yes, but it's not enough," Mr. Spitzer said. "I think government funding streams that go simply to the construction of affordable housing outside of the context of having project developers and the context of luxury housing doing it have not been addressed as well."
Mr. Spitzer served 15 months as governor of New York before resigning in March 2008 amid allegations he was involved in a prostitution scandal. He made a big at returning to public life in 2013 when he entered a primary race for city comptroller, but lost to now-Comptroller Scott Stringer. He's since taken over Spitzer Enterprises, which was built up by his father, Bernard, who died last November, according to The New York Times.
Now he's taking the real estate empire his late father built across the East River with a new development in the trendy northern Brooklyn neighborhood. With 550 rental apartments across three towers, 20 percent of the units at 420 Kent Avenue will be set below market rate for the area. Spitzer Enterprises, the politician-turned-developer said, wouldn't have been able to develop the project without the 421-a benefits.
"Without 421-a, it is inconceivable that we would have done our project as a rental," Mr. Spitzer said on the Williamsburg-focused panel, appearing with Jeffrey Levine of Douglaston Development. "We could have done it as a condominium[s] without 20 percent inclusionary. We could have done very nicely."