Movie Theaters Are Closing at a Furious Clip, But Not Before Trying to Reinvent Themselves
---
---
When John Ciafone bought 42-25 Queens Boulevard in Sunnyside, Queens three years ago, he wanted to turn the investment into a redeveloped commercial site. Existing tenants would have had to vacate while their buildings were razed and reconstructed.
Sunnyside Center Cinemas was one of those tenants and, according to Mr. Ciafone, was paying rents well below market value for years. That's how the theater could afford to charge kids and seniors $5 per ticket and adults, just $7.50.
Mr. Ciafone said he offered the theater owner, Rudy Prashad (who didn't return Commercial Observer's requests for comment), a chance to come back after redevelopment, but the rents would have to go up to market rate. The owner balked, Astoria-based Mr. Ciafone said, and the neighborhood fixture closed last December despite public efforts to keep it open.
Other small and independently owned movie theaters are finding themselves in the same predicament: their rents are going up or their buildings are being sold because of untapped potential. Big-box theaters dominate the market when it comes to blockbusters or first-run films that draw big crowds. And in a world where Hulu, Netflix and on-demand cable subscriptions are getting movies quicker, this could be curtains for the boutique theaters that get films by the time they're simply busts.
News of closing theaters has been coming out faster than Marvel Studios pushes out superhero movies. Sunshine Cinemas, an art house fixture on Houston Street, is in risk of losing its structure after news broke that its landlord was marketing the property. The Pavilion in Park Slope is in the planning stages to become a mixed-use building with more than 20 condominium units. Last November, a developer bought the building that houses the Brooklyn Heights Cinema (the theater owner announced plans to move it to Dumbo). And at nearly 90 years old, the Cinemart in Forest Hills, Queens, nearly closed in January because it hadn't drawn as many sizable crowds.
While some icons like The Paris Theater, IFC Center and the Angelika Film Center seem to be doing fine, others such as the Ziegfeld Theatre are reportedly struggling. In April The Hollywood Reporter wrote that the celebrated Ziegfeld—New York's single-screen ode to the movie palaces of yore, known for hosting East Coast premieres—was losing money for Cablevision, which leases and operates the theater, and was in danger of closing. (A spokeswoman for Cablevision, however, told CO in a statement: "The Ziegfeld Theatre remains open for business.")
Making rent is just part of the problem. There's also increased competition from multiplexes like AMC Loews and one's own living room, theater operators, brokers and landlords said. AMC has 12 multiplexes across the five boroughs, according to its website. On the other hand, Netflix has more than 62 million paid members worldwide, according to its 2015 first-quarter report, two-thirds of which were in the United States. HBO has more than 114 million subscribers worldwide, Variety magazine reported in 2013. Time Warner, the channel's parent company, said in earnings reports that number will go up with its now online-only service, HBO Now.
When a movie theater falls victim to these home-streaming numbers, the question is what to do with the cinemas. The Kings Theater sat vacant for nearly 40 years before reopening earlier this year as a music venue in Prospect Park South. After undergoing a restoration process, the former cinema, which first opened in 1929, is expected to host 200 to 250 shows a year, according to the New York City Economic Development Corporation.
But sometimes landlords get opportunities they can't refuse: residential. In Park Slope, that includes turning the partially landmarked Pavilion Theater into 24 condos, retail and parking spaces with the possibility for a movie theater, said Ethan Geto, a spokesman for landlord Hidrock Realty.
The current theater, showing first-run movies, had not been doing well financially and was becoming a loss for the landlord, Mr. Geto said. While Hidrock is in the early plans of its development, he added, the landlord potentially wants to put a smaller theater back into the property. Only this time it won't necessarily feature big movies, but artistic and independent films that might be more appealing to the Park Slope crowd.
"We think that an art house, independent movie venue would be more appealing to more people in the Park Slope community," Mr. Geto said. "We think that formula has a better chance of succeeding at that location."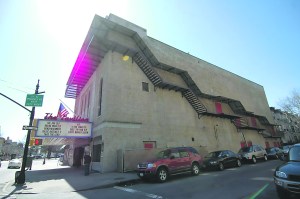 Mr. Ciafone, who owns the site formerly occupied by Sunnyside Center Cinemas, said he too hopes to have a theater back at his building once it's rebuilt—arguing a movie theater is something the community needs. By contrast, however, he said he'd want something closer to an AMC theater to compete with the nearby Kaufman Astoria multiplex in Long Island City.
"We've got to ask for the market rent," he said. "Is a boutique [movie theater] going to be able to handle it? I don't know."
Rent is something that's an overwhelming burden at MovieWorld Cinemas and Café in Douglaston, Queens, said General Manager Russell Levinson. As rent increases, Mr. Levinson said he's concerned about how the independently owned theater will be able to carry on. Production studios and distributors have been opting to release blockbusters throughout the year instead of just summer (take Avengers 2: Age of Ultron, which premiered in April), which has taken some of the off-season strain off paying the bills.
"It may get to a point where [rent is] unbearable," he said. "[Studios are] spreading [films] out much better, which is helping everyone."
However, a new wave of unique theaters in the city that give that experience closer to the living room are saying: "Come with me if you want to live." Matthew Viragh, the founder of the Nitehawk Cinema in Williamsburg, suggested operators figure out what sorts of movies would draw a community to a given theater.
"[It's all about] really getting in tune to what your specific audiences' tastes are," Mr. Viragh said. "We've tried to build that trust on what movies you expect."
Indeed, the Nitehawk is as much a food and bar scene as it is a cinephile scene, serving such fare as yellow fin tuna tartare and manhattans during screenings.
"For a long while they stuck with popcorn and soda and the same old experience … but now I think you're going to see that change across the board," Mr. Viragh said. "Show people your personality, and show people you respect and love film."
Interest has been growing in theaters like Nitehawk, which Mr. Viragh launched in 2011. He successfully got the state to amend a law allowing him to not only server food but also alcohol in his theater. Texas-based Alamo Drafthouse, which follows a similar model, is slated to open on the fifth floor of City Point in Downtown Brooklyn by the end of the year, said Paul Travis, a managing partner at Washington Square Partners, one of the developers of City Point.
Rounding out that lineup is iPic with distinct restaurants in all of its movie theater locations nationally, which is headed to the South Street Seaport and looking to expand all over the city. Sales from food and drinks make up 60 percent of the cinema's income, said Brad Cohen of Eastern Consolidated, who's helping iPic scout out other New York City locations. Mr. Cohen said the future of theaters is in not just providing near-fine dining, but a comfortable, intimate feel (iPic has fewer seats per theater, and they recline).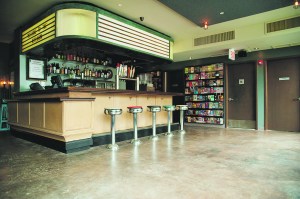 "People would prefer to be at home watching a movie, as opposed to paying $6 for a bottle of water to go watch a movie," he said. "They want what they want, and they'd rather be sitting in the comfort of their own home or something comparable to that."
And Mr. Levinson, the general manager of MovieWorld, said that while home entertainment might be the next trend, he's confident the theater industry will always draw the family crowd looking to burn a few weekend hours. Although business might be doing well, growing memberships for Netflix and other platforms is in the back of every theater operator's mind, he added.
"At this point I don't see a huge threat from the home entertainment," Mr. Levinson said. "But it's certainly a threat for the future."