Internet Clothing Company Moves to The Factory
---
---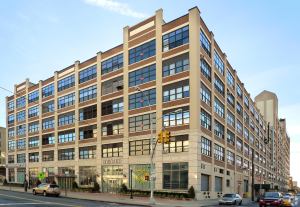 An online clothier is moving across Sunnyside Yards to a new office in Long Island City, Commercial Observer has learned.
Gwynnie Bee, a women's apparel company that lets customers rent clothes, inked a deal for 12,700 square feet at 30-30 47th Avenue between 30th Place and 31st Street, according to landlord Atlas Capital Group. The company is moving into the fifth floor of the 1-million-square-foot building, also known as The Factory.
Atlas declined to provide the terms of the lease. Asking rents at the neighboring Falchi Building have been in the $40s per square foot, as Crain's New York Business reported in March.
Gwynnie Bee is moving from 43-01 22nd Street in LIC, about a mile away from its new location.
"It's a big upgrade to their current space," Robin Fisher, who represented the tenant, told CO. "It's going to have a powerful impact on their business in a positive way."
Ms. Fisher and Christie Bennett of Newmark (NMRK) Grubb Knight Frank represented the tenant. Howard Kesseler, Brian Waterman, Jordan Gosin and Brett Bedevian, also of NGKF, represented Atlas.
"The Factory attracts new tenants looking for an environment similar to Midtown South and Chelsea, at a fraction of the cost," Mr. Waterman said in prepared remarks. "The open floor plates, complemented by high ceilings, provide a unique and inviting setting that help tenants be productive at The Factory."
Altas and co-owner Square Mile Capital have overhauled the 90-year-old Queens building, formerly owned by Macy's and used as a warehouse, as CO reported earlier this week. Ownership has been focused on preserving the building's original infrastructure and using its several rooftop decks as an amenity for the tech and creative tenants it wants to lure to the building.