Fortuna Starts Demo on West 38th Street Aloft NYC Flagship
---
---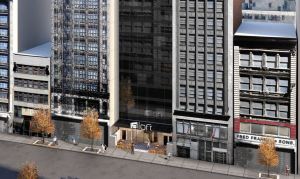 About a week ago, Morris Moinian's Fortuna Realty Group started demolition work on a ground-up Aloft New York hotel on West 38th Street, the developer told Commercial Observer.
The $100 million 75,000-square-foot hotel at 25 West 38th Street between Fifth Avenue and Avenue of the Americas will be the New York City flagship for Aloft, a Starwood Hotels brand, Mr. Moinian said. There are existing Aloft hotels in Harlem and Downtown Brooklyn.
The Midtown hotel will have 180 rooms and rise 28 stories, he said. There will be no restaurant, but there will be an Aloft w xyz bar, which serves finger foods. Unlike most Alofts, West 38th Street will have an outdoor rooftop living room for hotel guests. Nobutaka Ashihara Architect is the project's architect and Paul Vega of VLDG is designing the interiors.
Fortuna purchased the hotel in December 2012 for $11.8 million, property records indicate. Mr. Moinian hopes the "lifestyle" hotel will be completed in 18 months.