CMC Brokers $14M Construction Loan For Yonkers Residential Project
---
---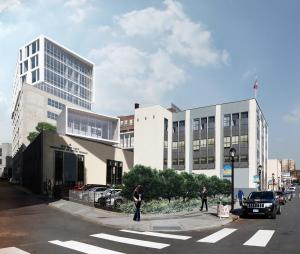 Commercial Mortgage Capital closed $14 million in construction financing for UNO at i.Park Hudson, a 96-unit multifamily property on the Hudson River waterfront in Yonkers, New York, according to a spokesperson for CMC.
New Jersey-based bank ConnectOne Bank provided the loan to developer National Resources, he said.
UNO at i.Park Hudson sits on the Hudson River in Downtown Yonkers. The former municipal buildings would be converted to airy lofts that will hopefully attract youngster working in Manhattan in search of sub-Manhattan prices.
"UNO at i.Park Hudson is in a premier location in the center of the Yonkers waterfront development, and directly benefits from the multi-billion dollar revitalization program currently underway in Downtown Yonkers," said Mark Scott, founder and principal of CMC. "With a lack of competitively priced housing for young professionals who desire access to New York City, there is strong lender interest in the Yonkers market, and the quality of the asset together with the strength of the sponsor enabled us to secure the most efficient source of capital for the project."
i.Park Hudson is a new construction mixed-use campus that includes offices space, retail and multifamily at 28 Wells Avenue. The project's website bills i.Park Hudson as "not your grandfather's office park."
UNO, the residential portion, will occupy 70,000 square feet and includes amenities such as a roof deck and gym.
This is not the first deal CMC has done with National Resources, a Conn.-based developer. Last month, CIT Real Estate Finance provided $12.5 million in construction financing to National Resources to develop The Pearl, on New Jersey's so-called Gold Coast.