Woori America Bank Moves Within Koreatown
---
---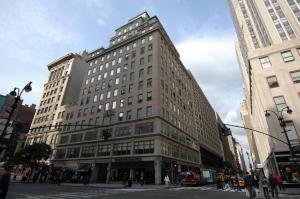 Woori America Bank, a subsidiary of Woori Financial Group based in Seoul, South Korea, is moving within Manhattan's Koreatown, according to The Real Deal.
The publication noted that the bank, which was established in 1984, will move from 1250 Broadway between West 31st and West 32nd Street to 330 Fifth Avenue at East 33rd Street, where it has signed a lease for 25,000 square feet across three levels.
Soon H. Rhee and Norman Bobrow of First New York Realty Brokers represented Woori America Bank.
"The bank is very happy," Ms. Rhee said.
Ms. Rhee also added that until this point, Koreatown has been heavily concentrated between Broadway and Fifth Avenue. However, it seems to now be spreading out of this corridor, with Korean banks moving to Fifth Avenue.
"They have moved to Fifth Avenue, which seems to be more strategic for the Korean banks," said Ms. Rhee.
Ms. Rhee declined to provide asking rents.
Shulsky Properties, which owns the 224,000-square-foot building at 330 Fifth Avenue, could not immediately be reached. The property, which was built in 1926, has 15 stories; Woori America Bank will operate on the ground floor.
Other tenants at 330 Fifth Avenue include New York State's Office of Mental Health, St. Giles International and Shinhan Bank.