Whole Foods Going Smaller, Cheaper in NYC
---
---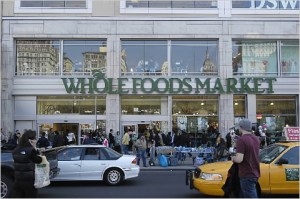 After many iterations of hunting for 20,000-square-foot spaces in millennial-friendly neighborhoods of New York City, it appears that Whole Foods Market executives are serious about opening smaller, less expensive stores.
Walter Robb, co-chief executive officer of Whole Foods Market, announced plans to launch a new "values-oriented experience geared toward millennial shoppers," following the release of disappointing second-quarter earnings. In the investor relations release, it says that Whole Foods is putting together a team to focus on the new concept and is "currently negotiating leases." The plan is to open those stores next year.
Commercial Observer has learned that New York City is expected to get some of these lower-priced stores, which will be about half the size of the typical 40,000-square-foot Whole Foods. Company executives have been touring potential spaces for a long time, although they haven't nailed down a lease yet. The Whole Foods coming to 240 Bedford Avenue in Williamsburg will not be one of these values-oriented stores as its design is complete. These cheaper stores are likely to be rebranded, one source said.
"Offering our industry-leading standards at value prices, this new format will feature a modern, streamlined design, innovative technology and a curated selection," Mr. Robb said in the release.
Another source said that Whole Foods will remove the more expensive goods and maintain less merchandise on its shelves.
Whole Foods didn't immediately respond to a request for comment and nor did broker Chase Welles of SCG Retail, who represents Whole Foods, along with Jacqueline Klinger.