The Plan: Teach for America's New York Hub
---
---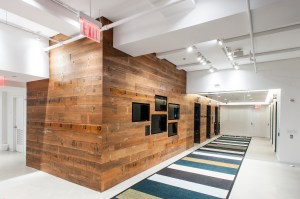 Teach for America, the popular program that prepares and places recent college graduates in underserved school systems throughout the country, had occupied offices at 519 Eighth Avenue and 315 West 36th Street in Midtown. But when these leases co-terminated, there was an opportunity to assess the city's real estate market and the organization's real estate strategy for its New York hub.
"We scoured the entire city [for space]," said Adam Wiseman, the managing director of facilities at TFA, who said the search took the organization from Brooklyn all the way up to Harlem. "It is difficult to be well located for us because we have teachers in all the boroughs."
TFA decided that the building at 25 Broadway, with its relatively central location and rent far cheaper than in Midtown South, fit the bill. It took space on the 11th, 12th and 13th floors of the property.
"We felt this was the most affordable long-term option for us," said Michael Zehavi, another managing director of facilities for TFA, of the space, which the organization moved into on March 30.
While TFA's 49 other regional offices range in size from a few thousand square feet (Wilmington, Del.) to roughly 20,000 square feet (Atlanta and Chicago) TFA's 132,000-square-foot spread at 25 Broadway in Manhattan is by far its largest nationwide.
The organization was not just looking for space for its staff of 600 in New York (it has 2,200 full-time staff members nationwide); TFA opens its office to its alumni who are starting organizations and need a place to incubate or are using the space for events, its donors and its current corps members who need support and resources for their classrooms. Today, there are 5,000 TFA corps members and alumni in New York City.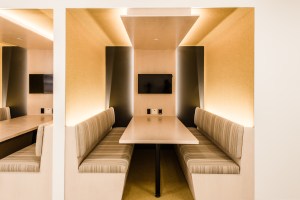 "One of the main goals for Teach for America is to service a varied amount of people that come into the space," said Erika Reuter, a senior interior designer for HOK that worked on the project. Ms. Reuter also had to ensure that the office reflected TFA's brand strategy. The design had to stay on theme with education without devolving into kitsch.
Modworxx worked with HOK to design, product engineer, fabricate and install creative millwork solutions across the three floors. These include using recycled school gym bleachers sourced from across the country paired with television monitors, and four rows of school-themed bleacher seating built into the wall as an open work area with outlets to charge laptops or other devices.
Mr. Zehavi stressed that the budget was tight for remodeling the space.
"We are a nonprofit and it's really important to us to be that," he said. "We spend a lot of time raising money and we do not spend it unless it is incredibly well spent and spent towards our program."
Mr. Zehavi noted that many of the "very cool" features of the office are not foosball tables and beer on tap, but are amenities designed to help teachers. It has a mock classroom, a corps member resource room and a teacher's lounge that he described as a "getaway space." The space also includes two public assembly areas for its events.