Outer Borough Shopping Centers Becoming a Hot Commodity
---
---
Luxury condominium towers, five-star hotels, high-tech office buildings, so what?
Take a drive through Queens on the Long Island Expressway or through Brooklyn on Ocean Parkway and witness a property class that is quickly rising in value: low-rise shopping centers.
The market for multi-tenanted retail buildings in the outer boroughs of New York City is bustling—despite the belief that all commerce will eventually take place on our smartphones. Real estate buyers looking for properties with lots of "upside potential" see shopping centers as some of the most prized assets right now, several buyers and brokers told Commercial Observer.
"There is certainly increased interest and activity here in New York," said David Monahan, an executive vice president at JLL (JLL) specializing in retail. "It's a market everyone wants to get into and not necessarily a market that everyone wants to get out of."
Retail on a macro level, and urban shopping centers, specifically, are among the most widely sought-after real estate investments in the U.S., said Mr. Monahan. He attributed that in large part to the country's rebounding job market (which means customers with more money to spend and greater need for space) among other factors.
In late April, the New York-based investment, development and management firm JSR Capital acquired Solomon Plaza, a two-story retail and commercial office building in Borough Park, Brooklyn, for $25 million.
The new sponsor purchased the 32,000-square-foot, block-long property at 5002 13th Avenue from a group of investors listed in city records as Gan Enterprises, Blima Homes and Samsol Homes.
JSR, which also owns and manages high-end properties in Manhattan and San Francisco, plans to increase the building's net operating income by "repositioning the tenants" and adding more floors, according to a statement on the company's website. Representatives for JSR did not return calls requesting a comment.
"Shopping centers present an opportunity for investors to buy into areas that are less focused on by major developers and apply the same improvement strategy," said Meridian Capital Group Managing Director Tal Bar-Or, who negotiated the acquisition financing for Solomon Plaza. Signature Bank and the specialized lender RCG Longview provided $22.8 million in permanent and mezzanine financing for the acquisition.
"You can go into an area like Borough Park, where there's traditionally just mom-and-pop and neighborhood retailers, and find properties that have been owned by families for decades," he said.
Those family-owned shopping centers are often in need of an upgrade, allowing for new owners to then charge higher rents and see greater returns, Mr. Bar-Or noted. He compared the business model to buying and repositioning apartment buildings, without rent regulations.
"If you have a building owner who is focused on the status quo, a new investor can come in, take that property and add a lot of value," he said, adding, "not just by physically improving the appeal and appearance of the building, but by bringing in higher-quality retailers."
Mr. Monahan said that while buyer demand is high, smaller, mom-and-pop-owned properties are often difficult to nab for a variety of reasons. (Not the least of which being that there aren't that many of them.) "If you can get to it, there is an opportunity," he said. "But you've got to work through certain seller issues—a lot of them being tax-related."
That hasn't deterred seasoned real estate shoppers from bargain-hunting. Likewise, the heightened demand for well-performing shopping centers has led to more eagerness among lenders to bank on them, said Dustin Stolly, a managing director in JLL's capital markets group.
"Any shopping center in the New York area with strong sales and strong foot traffic is highly sought-after debt," he said. "Borrowers in that case can effectively pick between a large number of lenders."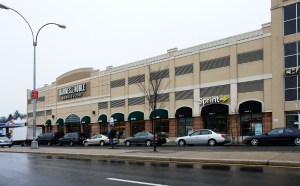 In early May, New York-based Prestige Properties & Development purchased a three-story shopping and medical office center in Fresh Meadows, Queens, from New Jersey-based Wharton Realty Group for $75 million. MetLife provided a $50 million loan for the acquisition.
The 118,186-square-foot building at 176-60 Union Turnpike, known as Utopia Center, is almost fully leased, according to the buyer.
"We are going to hold the property and upgrade it," said Sam Shalem, the chairman and chief executive officer of Prestige Properties, which invests in real estate in the Northeast and Florida.
The firm is in the market for additional shopping centers in the outer boroughs and other neighborhoods in metropolitan areas outside of New York, he added.
"We're looking for value-add situations where we are able to improve the properties and see more upside," Mr. Shalem told CO. "Retail in the middle markets throughout the country has become weaker in recent years, so we are trying to focus on denser areas near major cities."
One of New York's larger indoor shopping centers, The Shops at SkyView Center in Flushing, recently hit the market and is expected to fetch north of $400 million, as CO previously reported. A representative for the 700,000-square-foot shopping center's owner, Onex Real Estate Partners, declined to comment.
Much like the deeper parts of Queens, Brooklyn, and let's not forget Staten Island, the suburbs surrounding the boroughs are also fertile grounds for shopping center deals in 2015, said Jose Cruz, a senior managing director in the New Jersey office of the national brokerage firm HFF.
Mr. Cruz said his team is marketing six shopping centers in New Jersey and Westchester right now. "When everything lines up—great location, great anchor tenants, high traffic—we're seeing cap rates in the 5 percent range in the suburban markets," he said. "Even the challenged locations are seeing interest, whereas a couple of years ago they weren't."
While some owners have been willing to sell their shopping centers for the right price, the majority has held onto its Greater New York assets with no signs of selling, according to the brokers interviewed.
Among such retail properties is Ashkenazy Acquisition's Douglaston Plaza in Queens. The 300,000-square-foot shopping center has remained under the real estate giant's wing since Ashkenazy bought it from Yale University for a reported $65 million in 2005.
"Nowadays, when people can get their hands on these, they love to keep them," Mr. Bar-Or of Meridian said. "The demographics in New York are irreplaceable, so you're always going to attract retailers."