Foot Locker Signs 36,000-SF HQ Deal at 1460 Broadway
---
---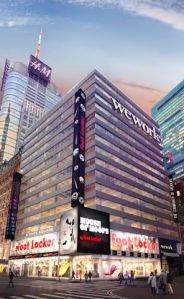 Foot Locker, the global athletic footwear and apparel company, has signed a 15-year lease for the entire 36,000-square-foot retail space at 1460 Broadway, The New York Post reported.
The store will be a flagship location for Foot Locker, which also recently re-signed a lease at 112 West 34th Street for 34,200 square feet. The all-glass storefront at 1460 Broadway is designed by MdeAS and will include 4,500 square feet of LED signage.
The building, owned by Himmel + Meringoff and The Swig Company, is 16 stories and  220,000 square feet. It is also known as 8 Times Square. The property sits at the corner of West 41st Street and is undergoing $45 million in renovations as part of a repositioning.
"We are delighted that Foot Locker will occupy 100 percent of our multi-level property at 8 Times Square, where it will benefit from around-the-clock pedestrian traffic and incomparable brand signage," said Leslie Himmel, the principal of Himmel + Meringoff, in prepared remarks.
Eric Gelber of CBRE represented Foot Locker in negotiations. CBRE declined to comment. Farrell Virga and Jason Vacker of the firm represented Himmel + Meringoff in-house.