Chipotle Opening Interior Design Testing Center at Industry City
---
---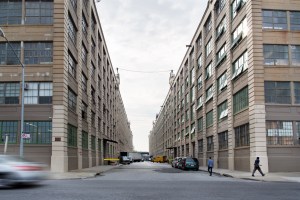 Chipotle Mexican Grill will be opening a 9,197-square-foot space at Sunset Park's Industry City to create and test interior designs for its restaurants, Commercial Observer has learned.
The burrito and taco chain with more than 1,500 restaurants in the U.S. and abroad took a 10-year deal on the fourth floor in Building 4 of the 6-million-square-foot, 16-building manufacturing complex on the South Brooklyn waterfront. Taking rents range from $15 to $35 per square foot.
"The space is for the design of Chipotle interiors," according to a spokeswoman for Industry City. "The designs that are built and tested at their Industry City space will eventually make their way to Chipotle restaurants around the country."
Diana D. Boutross of Winick Realty Group represented Chipotle in the deal and an Industry City-in-house leasing team represented Industry City owners Belvedere Capital, Jamestown and Angelo Gordon, along with Cammeby's International and FBE Limited, a group which is investing $1 billion in the complex. Ms. Boutross declined to comment via a Winick spokeswoman.
"Industry City is becoming an incubator in more ways than one," the Industry City spokeswoman emailed. "Established companies are incubating new concepts, from designs to how they sell their products, and more and more 'traditional' incubators are setting up shop there as well. Following West Elm's new maker studio and Design Within Reach's new-format store/Herman Miller repair facility, which both opened at Industry City last month, Chipotle is now opening a 9,200-square-foot space at Industry City to create and test interior designs for their restaurants."
Another new tenant at Industry City is Irmat, a dermatology pharmacy, which took 26,225 square feet for a call center with 100-plus employees on the fifth floor of Building 1. Ross Perlman and Ryan Gessin of Newmark Grubb Knight Frank represented Irmat and Mitchell Arkin of Cushman & Wakefield represented Industry City. The lease is for 10 years.
Orgnic Gemini took a five-year lease on the fourth floor of Building 8. The 6,768-square-foot space will be for the production of a line of organic horchata beverages made from tiger nuts. Aptsandlofts.com's Eloise Paul represented Organic Gemini and worked with Industry City's internal leasing team.
Shakuff, a custom glass lighting and décor company, took 6,318 square feet in Building 4. The deal for the second-floor space is five years. Shakuff worked directly with Industry City's internal leasing team.
Finally, a collective of engineers, operators and designers that aims to solve problems facing consumers in healthcare, tech and consumer products, has inked a five-year deal for 6,293 square feet on the sixth floor of Building 3. Branchild signed a deal for five years. Companies within the incubator include HeroHealth, a consumer health company that designs and manufactures a proprietary tabletop medical device as well as online health platforms; Almond, an online platform that connects experienced nutrition specialists and consumers; and The Arrivals, an apparel company that designs and manufactures its products in New York City. Joseph Cirone of C&W negotiated the Brainchild deal on behalf of Industry City.