Brookfield's Dennis Friedrich is Forging a 7M-SF Empire—and That's Just One Project
---
---
Dennis Friedrich, the chief executive officer of the Global Office Division for Brookfield Property Partners, has come full circle.
When he started, the firm was then called Olympia & York, and was opening the World Financial Center (eventually housing Merrill Lynch and American Express). He was yearning to go into marketing, so he helped organize a symposium to lure international firms to the complex. He described it as ending up a failure. Maybe he just needed the right moment to strike.
The Hicksville, Long Island, native had dreams of creating the next big product line at the time. While he was arranging that ill-fated symposium, he sat next to people working on the real estate side. It wasn't long before he got the itch.
Mr. Friedrich, 49, sat down with Commercial Observer last week for the construction issue. The World Financial Center is now Brookfield Place and he's become one of the company's top executives; the newly remodeled complex had its grand opening in March and the 250,000 square feet of retail is almost completely leased (it would be a disservice not to mention the views of the Hudson River and Liberty Island). Brookfield Place is also the epicenter of the real estate empire's operations, but its real future is to the north on the Far West Side, and markets outside of the United States.
Brookfield is one of the biggest developers at Hudson Yards, where it plans to build Manhattan West between Ninth and 10th Avenues and West 31st and West 33rd Streets. It will feature two soaring office towers, 2 million square feet apiece, renovate an office building constructed during the Lindsay Administration and a luxury residential rental tower. The project will encompass a total of 7 million square feet of commercial, residential and retail space built in foundation around the rail yards with a platform connecting the buildings.
Brookfield has had to import new technologies to build its platform above Amtrak, New Jersey Transit and Long Island Railroad trains, but in the end, the bridge technology the company used literally helped the trains run on time. The global construction company can now start building that first office tower, dubbed 1 Manhattan West, after signing the storied law firm Skadden, Arps, Slate, Meagher & Flom to a massive 550,000-square-foot lease in April.
While it's carving out its stake of the previously barren portion of waterfront Manhattan property, Brookfield also has its sights set on interests in London (where it's building two office towers—one of which is anchored by Amazon's U.K. operations), Toronto, Calgary and Perth, Australia.
Commercial Observer: Could we start with Manhattan West, and where the construction is in that process?
Mr. Friedrich: So it's obviously a large-scale, mixed-use project, with a retail component as well as a significant public space of over three acres, which we'll schedule with our arts and events program, which we're doing around the globe. The first piece is the construction of our platform. The buildings themselves aren't built on the platform; they're actually built in good old Manhattan bedrock.
Really?
Yeah, but the platform really creates the land or the common areas for the space and basically fills it over [the rail] tracks. The site was initially one-third terra firma, two-thirds open area—open cuts over active rail yards. We have filled in about two-thirds with a platform now and we were able to deliver ahead of schedule and on budget. So that was meaningful. That was about $300 million of hard costs.
Just to understand, the foundations are directly over the rail yard and then the platform goes around it?
The foundations are outside the active rail lines or railways. And the platform is actually over the rail. The foundations reside in the bedrock and the different quadrants on the site.
It's interesting technology. We're using bridge technology [to place concrete bridges across the platform], which was a departure from what we had originally anticipated, which was a super steel structure. It enabled us to save considerable amounts of time and capital.
Our foundation work's done. That's the super-structure starting to make its way up on the southwest portion of the site. Then we recently announced our intentions, our plans to move forward with the first office tower. We secured an anchor tenant with Skadden, Arps. So that [building] will be about 2.1 million square feet—which is the northeast tower.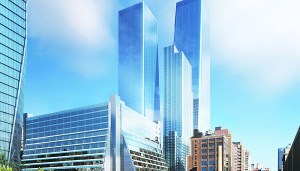 How different is this from anything you've ever worked on before, coordinating with three transit entities and then building a platform?
We've owned the site for a long period of time, and actually in the previous up real estate cycle—prior to the crisis—we were spending a lot of time getting agreements in place but actually working with a different type of construction technology. This would have been a more traditional construction project, putting steel in, putting footings in and putting a steel super-structure around very tight areas around the track.
One of the major lead items was actually constructing this launcher [that lowers the pieces across the rail yard], which ended up being the machinery that brought the segments for the bridge across. This is a series of pre-cast concrete segments that had to be pulled into a sleeve and then we dropped each segment of the bridge and it took us about a year.
To lay those segments across?
Yeah.
Jeff Blau, the chief executive officer of the Related Companies, told us a month ago that the company is doing revolutionary things in terms of getting supply because of the scale of its Hudson Yards project. Have you had to change anything up in terms of getting your supply for this? Plus, with construction costs rising, has anything changed from your standpoint? 
Obviously we're keeping a close eye on construction costs. We have already secured a significant amount of the supply and the manpower for the residential tower. With the office tower we are also moving quickly towards [securing] steel and other things along those lines.
We are finding that steel costs are actually moderating to actually decreasing a little bit because of the impact of low fuel costs. Concrete is a different story. That has been escalating a little bit.
We're a global business, as is Related, but our global scale is very significant. We operate across four major geographies just in the office building business: the U.K., Canada, Australia and the U.S. And we've been actually making more investments in China and India as well, so we're keeping an eye on where we might have opportunities.
Now that you have Skadden, Arps as the core tenant for 1 Manhattan West, you can start construction. What went into finding an anchor tenant and where is construction going now?
We had been marketing obviously with the lead-time to develop the platform. We went ahead and did a high level of design on that tower. We had a tower that was well thought out in terms of efficiency for new tenants.
One thing the Skadden partners will tell you is our creation of the platform and our ability to deliver the platform on time weighed very much in their decision.
Really? Why was that?
For tenants coming in, it created the perception that land was created there as opposed to just an open area over tracks. Skadden has shown a history of amazing foresight and vision being prepared to move their headquarters in areas that would be considered somewhat pioneering for a law firm. The Times Square decision [to move to 4 Times Square] 20 years ago, by example, they were one of the first firms to anchor the area.
Do you view that as a really good sign for the Far West Side, that Skadden might be doing it again and could bring other people like in Times Square?
Yes. I think they're going to be wonderful ambassadors for the project. 'Cause they're one of the top law firms in the world. That was one of our important considerations before moving forward: we do not typically build on spec. For us it's important to have an anchor tenant for risk litigation, for financing, for all of that. But to have Skadden, who has a lot of touch points in the business community just given their client list, they are going to be a great ambassador for us.
With two commercial real estate projects in London, what drew Brookfield there?
A lot of well-rooted relationships from North America have a significant office presence in London. It was just a natural evolution for us to start to either buy both existing buildings, plus also to start to develop buildings for some of our relationships. At this point we have a very sizable asset base. It enables us to redeploy capital, either from selling assets or from our cash flow into development, which is an area we think returns, if your land basis is at the right level, and we have a significant pipeline of development projects that we have consolidated over the years.
London seems pretty comparable to New York: a lot of investment, a lot of people with a lot of money who want a really nice apartment and a lot of demand for
office space. What are some of the specific similarities or differences you've seen between the two cities?
They're two of the most liquid markets from a capital market standpoint in the world. London in a way is even deeper because its location can pull [in investors from] the Middle East and Asia to a certain extent because of the flight patterns. Just being a major global city to many of the same tenants and corporate tenants makes it very similar.
The one interesting difference I've noticed is London, within the commercial core of the City of London, has actually been far more pro-commercial development than New York. At times a little bit reluctant to residential and urbanization. Which I think—until you spend time there—you don't appreciate as much. It's a different culture; it's traditionally those that work downtown lived in suburban bedroom communities. We've had a more established rental and condo market here. That is changing where pockets of opportunity and the pipeline is really building in London.
And that's going to continue to change because what we're finding around most of all of our operating markets is that there's this organization trend with everyone looking for work-live-play far more. And [in] London, I think, we need to push that a bit more and get a larger number of rental and condo projects actually launched there to support a growing office sector.
What's your favorite part of the job?
I like the global nature of my job. We were more of a New York-centric or a Northeast-centric firm 20 years ago. To actually branch out into the different major global cities and run businesses around these cities is a very enjoyable part of the job for me. And for me it's been redevelopment and development activities has been exciting for us. This [Brookfield Place] being the highest-profile example. But we're doing that at 450 West 33rd Street. We're doing that at many places around the world. Those two things, for me, have been really fun, engaging parts of the business for the last few years.
How did you get into the business?
Sort of indirectly. I was interested in marketing, management and product development, actually, coming out of school. I ended up being offered just an interim position to run a symposium, a global symposium, for the launch of this complex [then World Financial Center]. I was hired on to run that. It was a failure, but I ended up sitting next to the development group and the leasing group and I just found it very interesting in the month I was involved in that. I liked the tangible nature of real estate. It was a very exciting environment when this project was built.