West Elm Creates 'Makers Studio' at Industry City, Expands by 11,600 SF
---
---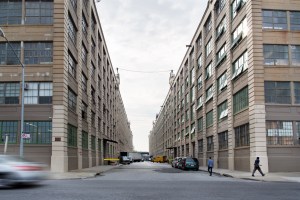 West Elm is expanding its footprint at Industry City in the Sunset Park neighborhood of Brooklyn by creating an 11,600-square-foot workspace for artists, designers and craftsmen known as the West Elm Makers Studio, according to a press release issued by the company.
The Makers Studio is on the sixth floor of Building 7 in Industry City, at 33-34th Street between Second and Third Avenues.
"West Elm was born and bred in Brooklyn," said Jim Brett, the president of West Elm, in prepared remarks. "The brand launched here in 2002. We opened our first Dumbo store in 2003, and our first West Elm Market in 2012, along with our Sunset Park photo studio and warehouse the same year."
According to the press release, the Makers Studio at Industry City is designed to facilitate the conception and design of products.
"We set out to create a collaborative environment for design to experiment and grow," said Jonathan Orr, the vice president of product development at West Elm, in a statement. "We'll have visiting artists stay with us to work on projects, develop existing and fresh ideas, and teach us new techniques. It will be a modern-day laboratory for design."
West Elm is not new to Industry City; it has had an 11,600-square-foot photo studio at the site since 2012. West Elm also has a 23,000-square-foot warehouse at the development. Collectively, the company occupies 46,000 square feet and has 30 employees working at the property.