Triangle Equities Wraps Up Mixed-Use Flushing Project
---
---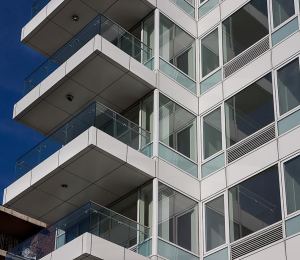 Triangle Equities has wrapped up construction on a Flushing, Queens mixed-use building, Commercial Observer has learned.
The developer has finished the nine-story 42-05 Parsons Boulevard between Sanford and Franklin Avenues and has closed on half of the 14 condos in the 28,456-square-foot building, said Brett Goldman, the director of acquisitions at Triangle Equties. He expects the rest of the residences—selling from $550,000 to $1 million—to close within the next month.
Alice Wong of Block & Lot Real Estate Management, a Flushing-based brokerage, has been marketing the apartments for Triangle.
"She has done a great job selling our units," Mr. Goldman said. "We had a pretty good reception in the market."
The condos take up nearly 22,000 feet of the building, with the majority two-bedroom and one bath. Three-bedroom penthouses are on the eighth and ninth floor. It also features five units of office space, which together take up 6,755 square feet.
Stephen Preuss of Cushman & Wakefield is marketing the office space, Mr. Goldman said, which the developers are hoping to sell as one piece for $1.5 million.
"We had some bites," he said. "But nothing we're excited for yet."
Triangle bought the loan note for the building in 2011, which was already 85 percent complete, Mr. Goldman said. The construction loan was for $8 million, as reported by the Queens Chronicle; that would put the Triangle's price around $1.2 million.
After it won over the rights to the property, Triangle was able to get the correct certificate of occupancy for the building. The
"Our loan-to-own strategy in this case worked and we were able to take back this property and turn around the note for the right price," Mr. Goldman said. "It's in a walkable neighborhood location. We've really created a little niche market for upscale condo purchases [here]."