Spec Office Development Hits Outer Boroughs
---
---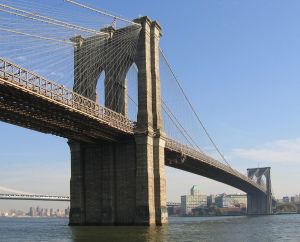 A few years ago, even in Manhattan, building or converting an office property on spec was unheard of.
That is no longer the case, according to data from JLL (JLL), whose debt experts say the arrival of name-brand tenants has made office conversion deals in the boroughs increasingly appealing. 
Class A vacancy in Downtown Brooklyn ticked in at a mere 3 percent in the fourth quarter of 2014, according to JLL's numbers, and average asking rents were up 40 percent year-over-year, to just over $42 per square foot. In Long Island City, vacancy was 3.7 percent and average asking rents were up more than 35 percent from the same period in 2013, to $30 per square foot. For perspective, the vacancy rate in Manhattan was about 9.5 percent in Q4 2014, according to JLL.
"Most tenant demand is organic within Brooklyn, where companies such as Etsy and Huge have recommitted to the borough and expanded," said JLL Managing Director Max Herzog.
A key force driving tenants to Kings and Queens counties is the city's Relocation and Employment Assistance Program, he added. REAP is a tax credit for commercial businesses, excluding retail and hotels, that move to targeted areas in New York City, which include LIC and Downtown Brooklyn. The 12-year credit is equal to $3,000 per employee for companies relocating from Manhattan, according to the Economic Development Corporation's website.
Now, to satisfy tenant demand, developers have broadened their focus to include office redevelopment in those areas. After all, Downtown Brooklyn and LIC are close to the millennial workforce's preferred residential neighborhoods and replete with loft and "loft-like" spaces that can easily be converted into the approximations of the artsy offices of Midtown South—but for cheaper.
For instance, New York-based Quinlan Development Group and Connecticut-based developer Building & Land Technology closed a deal last month to buy 41 Flatbush Avenue, a downtrodden ex-self-storage building in Downtown Brooklyn, for $89 million, with plans to reformulate it as an office building. (The Wall Street Journal first reported the sale.)
Annaly Capital Management, a real estate investment trust, provided $103 million in financing connected with the purchase, according to records filed with the city. According to Mr. Herzog, REITs are some of the more active lenders in the sector.
In cases where office developments or conversions are pre-leased, banks will typically lend up to 75 percent LTV, he said. Otherwise, mortgage REITs and funds must be tapped, and they will generally only go to 65 percent LTV, and will charge a higher rate.
But as interest builds, those rates might go down. As investors pile in, others start to suffer from a fear of missing out—on yield.
"Institutional investors have made a concerted push in recent years to chase yield in Brooklyn and Long Island City," Mr. Herzog said. Compressed cap rates in Manhattan have sent them over the river.
He pointed to RXR and American Landmark Properties' purchase of the leasehold at 470 Vanderbilt Avenue from Starwood Capital, GFI and the Carlyle Group earlier this year. The Class A office, near bustling transit hub the Atlantic Center, is part of RXR's plan to invest in about $1 billion in outer-borough real estate, according to a report from Crain's New York Business.
"In Brooklyn, there is more than anywhere else being built," said Jonathan Aghravi, managing director at Eastern Consolidated. "And construction [funding] in general is easier to obtain [than in the past]."
Meanwhile, in Long Island City, private equity real estate firm Savanna purchased a controlling interest in 1 Court Square, a high-rise office tower, from David Werner Real Estate and Waterbridge Capital last August.
And earlier this year Vornado purchased 33-00 Northern Boulevard there from Madison Marquette for $142 million, even assuming a $62 million CMBS loan with a relatively high rate of 4.43 percent and no prepayment or defeasance options as part of the deal. Why? In the recently gritty neighborhood, there is room for upside. A source close to the deal said that Vornado planned to re-vamp the office to appeal to technology tenants, with its exposed brick and high ceilings—an outer-borough version of Hudson Square. (A representative for Vornado declined to comment on the purchase.)
But there's something for everyone in these burgeoning submarkets—not every conversion is meant for tech firms, which can afford pricier space.
"Demand by tenant industry depends on the product and the location—more entrepreneurial companies have sought loft-like space along the waterfront, while government agencies and financial services back office operations are focused on 'traditional' office product in Downtown Brooklyn," said Mr. Herzog.
To be sure, there are still some obstacles to getting cash to convert just any old building in the borough.
Simon Ziff, president of capital advisory firm Ackman-Ziff, said that for outer-borough office conversion deals over about $200 million, lenders get weary, but also said that the sponsor's reputation was a key factor in getting the deal done.
"Key factors: sponsor, track record, overall returns, demand for office in the submarket," he said.
Mr. Aghravi agreed. He cautions that it's still difficult to close some deals, and lenders "expect a lot of experience from the sponsor, as well as some liquidity, unless they want to pay a premium."