Nike Clicks Out of Google Building for New Durst Property
---
---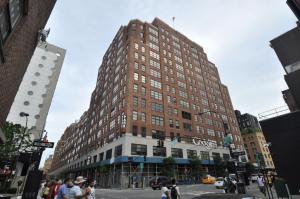 Nike is leaving its Chelsea office owned by Google and heading to a Durst Organization property near Pennsylvania Station, as landlords try luring tenants to the Midtown area.
The athletic wear giant is moving to 855 Avenue of the Americas between West 30th and West 31st Streets in an 11-year lease, according to Crain's New York Business. Nike will span 147,000 square feet on the third to the sixth floors once the building finishes early next year.
Asking rents were $78 per square foot, according to Crain's. Howard Nottingham and Allyson Bowen of Savills Studley represented Nike, a Durst spokesman said, while Eric Engelhardt and Lindsey Ravesloot represented the landlord in-house.
Durst declined to comment via the spokesman. Savills Studley declined to comment via a spokeswoman.
Vornado Realty Trust has been trying to build up the area around Penn Station, where it's the largest landlord, which has been traditionally home to second-tier office space, The Wall Street Journal reported earlier this month. Tech companies have already shown interest: Yodle moved into 114,000 square feet at 330 West 34th Street between Eighth and Ninth Avenues—moving out of its West 23rd Street location so the company could expand the size of its workforce.  
The Vornado plan, while in the early stages, includes building up the office stock in the area, along with amenities such as public plazas and spruced up retail space. Commercial Observer reported earlier this month on the lack of dining options near Penn Station and Madison Square Garden, which sits atop the rail hub.
Google has been trying to push out tenants at 111 Eighth Avenue, Crain's reported, so it can expand its own foothold by buyout its tenants' leases. The online conglomerate bought out WebMD's lease. The self-diagnosis website is headed Downtown. But it wasn't confirmed if it had done the same to Nike.