It's Hard Out There For a Retailer
---
---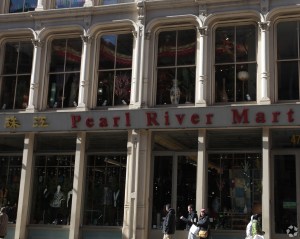 For many beloved city outposts, the rent is too damn high to survive.
Pearl River Mart, the 44-year old Chinese department store in Soho, is shutting its doors. According to Crain's New York Business, the institution that has called 477 Broadway home for the past 12 years will close by the end of 2015 when its lease expires, having been dealt a knockout punch by a landlord who wants to increase the rent 500 percent.
"We have to close," said Ming Chen, 76. Mr. Chen is one of the managers of Pearl River Mart; he was born in China and started his career at the store on its first day 44 years ago. "We have no way to afford this."
Crain's reported that today, Pearl River pays north of $100,000 a month for its 30,000-square-foot spread between Grand and Broome Streets. But the paper noted that landlord Nathan Baden wants to raise rents to over $500,000 a month.
Howard Baden, Nathan Baden's son, said his father was not interested in speaking to the press—however, Howard Baden described the numbers as "totally inaccurate."
"[That number] basically breaks down to $600 per square foot," said Howard Baden. "My father never mentioned anything like that to Pearl River."
Pearl River is one of a handful of locally-owned stores on a stretch of Broadway that has come to resemble an upscale shopping mall. Mr. Chen, on the other hand, said his store sells not only merchandise, but also "amazing culture," which is what set the retail outlet apart.
"We are a very specialized Asian store," said Mr. Chen, who talked about some of the 20,000 items Pearl River carries, among them lanterns, ceramics, Chinese herbs, arts and crafts and furniture. The majority of its goods are imported from China.
Pearl River Mart is the latest retail outlet that is part of a trend of storefronts succumbing to unattainable rents.
Andrew Goldberg, a vice chairman at CBRE, said that the increase in rents indicates that the retail business in New York is very strong.
"More and more retailers want to be here. The demand is driving up the rents," he said. "The locally-run businesses are obviously going to have more trouble relocating or staying in high-profile locations."
But even international chains are struggling to keep their space.
Last month, Commercial Observer reported that Toys "R" Us, which has a  110,000-square-foot lease for its international flagship store in Times Square, is not renewing and has plans to vacate the space by February 2016. Asking rents on the ground floor of the property at 1514 Broadway between West 44th and West 45th Streets are $2,500 per square foot.  
High-end restaurants have also fallen victim to gentrification; Danny Meyer's Union Square Cafe is set to close this year after operating at 21 East 16th Street for nearly the past three decades.
"I'm confident that we will find a new home, but the very prospect of taking Union Square Cafe out of Union Square is a heartbreaking pill to swallow," Mr. Meyer wrote in a New York Times Op-Ed published in July 2014. Mr. Meyer stressed that the city was in the midst of a rent crisis.
"In the past year, all kinds of pioneering restaurants that helped set the table for their respective neighborhoods—including Mesa Grill in the Flatiron District and WD-50 on the Lower East Side — have each lost out to untenable rent escalations," he wrote in his Op-Ed.