GE To Sell $30B in Real Estate, CRE Debt to Wells Fargo, Blackstone
---
---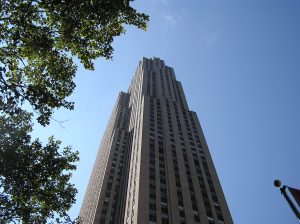 General Electric is close to a deal to sell "all or part" of its real estate holdings to Wells Fargo and Blackstone Group, according to The Wall Street Journal.
GE's commercial holdings around the world are worth an estimated $30 billion, the paper said.
The decision marks a more aggressive pace for the massive multinational's exit of the real estate market, a process that GE undertook after losses related to the 2008 financial crisis, but which had previously been a slow burn.
Last month, company insiders told the Journal that the firm would hasten the wind down of GE Capital, the lending arm of the company's real estate business. Investors in the publicly traded firm thought the lending business too risky, the execs said at the time.
The real estate portfolio is about $9 billion in ownership stakes, with the rest in real estate debt originated by GE Capital, the Journal said.
GE stock has traded below $30 since the crisis; stocks rose slightly to $25.46 a share at about 2 p.m. today, according to Bloomberg News.
Blackstone is no stranger to huge deals–in 2007 it spent a reported $39 billion to buy Sam Zell's Equity Office Properties, in a transaction thought to be the largest private equity buy ever at the time.
This February, the behemoth bought a stake with an estimated value of $4 billion in RXR Realty's New York office portfolio.
Wells Fargo, meanwhile, is in the midst of a push to nab higher-yield assets due to the current low interest rate environment, Bloomberg News said.