Barry's Bootcamp Brings Demanding Workout Classes to UES
---
---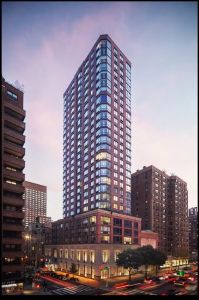 For Upper East Side workout devotees who have been commuting to Chelsea or Tribeca to attend Barry's Bootcamp, today brought good news; the fitness chain with an A-list following will open an outpost at 300 East 64th Street at the corner of Second Avenue.
Crain's New York Business first reported that the gym will operate out of a 5,879-square-foot space in a 31-story residential property owned by RFR.
"Barry's Bootcamp was seeking a flagship location for their first and only location to date on New York City's Upper East Side, and we're thrilled to welcome them to the building," said Jordan Claffey, the vice president and director of leasing at RFR Retail, in prepared remarks. Mr. Claffey represented RFR Retail in the deal.
Barry's Bootcamp was represented by Neal Ohm of Neal Cabot Ohm. Mr. Ohm noted in a press release that "Barry's had been looking to secure an Upper East Side location for a while and this location had all the right pieces."
Crain's noted that asking rents on the ground floor as part of the 10-year lease were $260 per square foot.
Barry's Bootcamp largely caters to the coastal elite who can shell out $34 per class for what has been voted "The Best Celebrity Workout" by Allure. Under its frequently asked questions page on its website, it addresses questions such as "what kind of weight training are we talking about? Am I going to become a monster?" "are you going to yell at me?" and "will I die?"