Bank of China Taking Less Space in Its Tower
---
---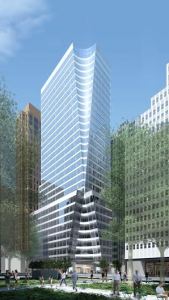 Bank of China will take up nearly half of its 30-story, 7 Bryant Park, a move from original plans to take the whole building, The New York Post reported.
The bank will occupy 40 percent of the 471,000-square-foot tower, which it bought late last year $600 billion, according to The Post. About 282,600 square feet of the building, which is between West 39th and West 40th Streets, will be leased out.
Bank of China announced last December it would buy the building for roughly from the developers, Hines and J.P. Morgan Chase, The Wall Street Journal reported. But at one point, the bank was speculated to take up the entire building, the Post reported.
CBRE, which represented all parties in the sale, would not comment on how much space Bank of China will take up nor which brokers were involved in the deal.
High-end leasing activity was up for the start of 2015, in part to leasing activity at 7 Bryant Park and 10 Hudson Yards, which is also under construction, according to a report by JLL. Class A leasing on the island, according to the survey, increased to 10.9 percent in the first quarter of 2015—a jump from 10.7 percent during the last quarter of 2014.
Construction at 7 Bryant Park started in February 2013. The building features 10-foot ceilings, clear-glass windows and two terraces that overlook Bryant Park.