TED Moves Within Trendy Hudson Square
---
---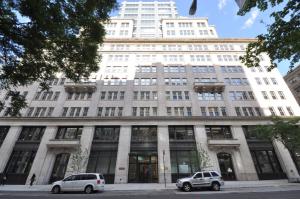 TED Conferences, the company behind the viral videos that tout "ideas worth sharing," is relocating to 330 Hudson Street, a fifth of a mile from its old office at 250 Hudson Street, according to The New York Post.
The Post reported TED will occupy 47,000 square feet on the entire 11th and 12th floors of its new home. Asking rents were $77 per square foot. The 13-year deal is a sublease from media and learning company Pearson. Richard Berzine represented Pearson, as he is the company's exclusive real estate broker. Mr. Berzine did not immediately respond to a request for comment.
The Class A property at 330 Hudson Street is 16 stories with 466,000 square feet of space. It is owned by 330 Hudson Street LLC, an affiliate of Beacon Capital Partners. TED is expected to move into the building this November.
Scott Bogetti and Sacha Zarba of CBRE represented TED in negotiations.
"After an extensive search, 330 Hudson was a perfect fit for TED Conferences due to its virtually column-free floor plates and generous slab height to accommodate TED's Theater/Conference room requirement," said Mr. Bogetti. "Hudson Square has always been a successful location for TED and remaining in the neighborhood was important to the organization."
Though TED has been around since 1984, the company has enjoyed tremendous success in the YouTube age. Today, TED topics range from spoken word poetry to global poverty and can be viewed in more than 100 languages. Those involved with TED include Google Co-founders Sergey Brin and Larry Page, Amazon founder Jeff Bezos and Microsoft founder Bill Gates.