Taste Before Shopping at New Wine Store
---
---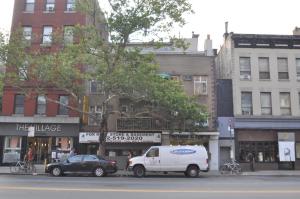 Taste Wine Co., a wine shop that offers tastings before purchase, signed a 10-year lease for 2,000 square feet of space at 50 Third Avenue. The asking rent was $150 per square foot. The ground-floor space was previously occupied by Biomed Drugs & Surgical Supply Co.
The wine shop will open this spring in the five-story building owned by Ira Z. Fishman and Nathan Halegua of EVO Real Estate Group.
"Taste Wine Co. is an ideal tenant for the building and for the neighborhood, providing a new amenity and an enjoyable option to local residents," said Mr. Halegua in a prepared statement.
Mr. Fishman, Mr. Halegua and colleague Robert Frischman represented both the landlord and the tenant in the lease transaction.
"The East Village has always been known for playing by its own rules, and Taste Wine did a little bit of rule writing when the New York State Liquor Authority approved our concept to allow customers to taste all our wines via wine-dispensing machines accessed through our mobile app," said Gary Landsman of Taste Wine Co. in a prepared statement.
Preliminary conversations with liquor lawyers left Mr. Landsman skeptical. Would his concept pass: free, self-serve samples of wine, following pre-registration through an app. Customers accrue points for signing up, purchasing wine, writing comments on wines tasted, and social media sharing. Points can be redeemed for one-ounce tastes of wine (regulated by the dispensing machine), as many as six per day.
According to the SLA, licensed liquor and wine stores can provide tastings of wine, but no other business may be operated in this location, including operating a bar. Tastings must be free and no other beverages can be consumed on the premises.
Mr. Landsman was advised by the liquor lawyers to prepare a petition for a declaratory ruling to aid in determining whether or not using automated dispensing machines for wine tastings was legal.
Last spring he petitioned the SLA and won approval for a liquor store license (liquor and wine, no beer). He was also approved for the use of automated drink dispensers for wine tastings for customers over age 21, for free, with no requirement of purchase.
Mr. Landsman aims to have 120 wines in his selection, which will ultimately be curated by customer preference. That number may not be available when the shop opens (wine dispensing machines are expensive, even if you are working with manufacturers, as Taste Wine is), but every bottle in the store will be available to taste.