Coworking Space Signs New Lease in Flatiron District
---
---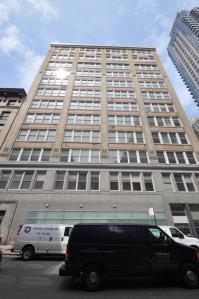 AlleyNYC, which has tagged itself as "the most badass coworking space on the planet," has secured 36,000 square feet at 119-125 West 24th Street between Avenue of the Americas and Seventh Avenue, according to The Wall Street Journal.
The company, which is riding the wave of co-working spaces infiltrating New York City, signed a 10-year lease for the third, fourth and fifth floors at the 12-story, 146,000-square-foot building, the Journal reported. The Kaufman Organization acquired the property from Extell Development Company through a 99-lease deal in April 2014. Asking rents at the property are in the mid-$60s per square foot. The building had been in disrepair for many years, and the Kaufman Organization invested tens of millions of dollars to revamp the entire building.
"Basically, they're moving into a brand new building," said Mark Kritzer, the chief executive officer of Millennium Realty Group, who represented AlleyNYC in negotiations. "They're going to have their own presence in the lobby. They're going to have their own reception desk and some nice signage on the building. It should be very nice."
Grant Greenspan, the principal of the Kaufman Organization, said he is excited to welcome AlleyNYC to the property.
"Securing a tenant like AlleyNYC reflects the success of our rebranding efforts at the Madison Square Portfolio. This is exactly who the Kaufman Organization wants to attract—a cutting-edge firm that will further energize Midtown South, while providing tech and creative entrepreneurs with a platform to grow and be successful," he said in prepared remarks.
Mr. Greenspan also represented the landlord, along with the Kaufman Organization's Jessica Kosaric.
The company, which has enjoyed recent success in securing capital for its expansion, already has two locations in New York: a 16,000-square-foot space in Midtown and a 40,000-square-foot space in Chelsea.