City Kitchen By The Numbers
---
---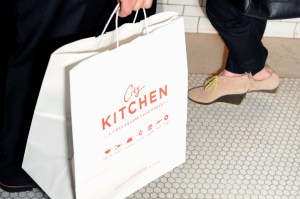 The war is over. Times Square has officially gone hipster. Or at least foodie.
On March 5, City Kitchen opened at Row NYC, the Midtown West hotel that sits on Eighth Avenue and 44th Street. A short walk from the Chevys and Applebee's of Times Square, City Kitchen is seriously raising the bar for the area's dining options. There are truffle cheddar pretzels from Sigmund's (born in the East Village), and dulce de leche-glazed doughnuts with toasted almonds from Dough (conceived in a modest storefront in Bed-Stuy). For more ravenous diners, there's Kuro Obi (an off-shoot of the city's revered Ippudo) for those interested in taking part in the city's ramen craze—so 2014! And, with spring right around the corner, one can always look forward to a lobster roll from Luke's; it's much better than Red Lobster, with which Times Square patrons are undoubtedly familiar.
Here is a breakdown of City Kitchen by the numbers:
Number of days open a week: 7
Number of square feet: 4,000
Number of seats: 76
Number of vendors: 9
(Kuro Obi, Gabriela's Taqueria, Whitman's, Luke's, Sigmund's Pretzels, Wooly's Shaved Ice,
Ilili Box, Azuki and Dough).
Number of rooms at Row NYC Hotel: 1,331
Number of guests at the Row on an average day: 2,500
Number of annual visitors to Times Square: 131 million-plus
Number of lobsters served by Luke's on opening day: 458
Number of doughnuts expected to be served daily at Dough: 488
Number of visitors expected within the next 12 months to City Kitchen: 1 million