Byredo Opening First U.S. Boutique in Soho
---
---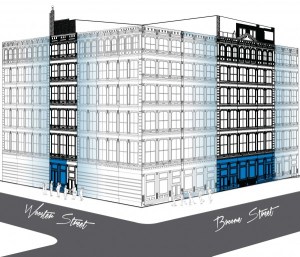 Stockholm-based Byredo, which Racked called a "cult fragrance brand," is bringing its signature scents and new body care products and leather accessories lines to the United States by way of Soho.
Byredo, which is sold at Barneys, signed a 1,300-square-foot ground-floor lease (plus 250 square feet for storage in the basement), at South Florida billionaire Jeff Greene's condominium conversion project at 62 Wooster Street between Spring and Broome Streets, sources told Commercial Observer. The asking rent in the 10-year deal was $300 per foot, one of the sources said.
At the new digs, Byredo will sell fragrances, candles and leather goods from wallets to clutches to travel cases, the source said. As for body care, Byredo will offer body lotions and other skin care products. Women's Wear Daily first reported news of Byredo's new space.
Mr. Greene bought the building for $26.27 million in 2011 and is converting it from commercial to a seven-story residential condominium (no longer one unit per floor) with the two retail spaces on the ground floor.
"It's taken him three years just to remedy the building," said Josh Siegelman of Winick Realty Group, who along with colleague Aaron Fishbein represented Mr. Greene in the deal. Nick Cowan of Isaacs and Company represented Byredo. Mr. Siegelman noted that the building was "riddled with violations."
Byredo started their construction in The L-shaped building following the signing of the deal a few months ago, Mr. Siegelman said. The company should move in in the second quarter of the year. Byredo is on the side of the "L" that is fronting Wooster Street and a second 3,550-square-foot retail space is on the market on the Broome Street side.
"We made it a point to maintain the element of Soho charm within the building in addition to the facade," Mr. Siegelman said. "We left the original floorboards and exposed brick and we restored the skylight in the rear of the space." Each of the retailers will have access to part of the skylight.
Mr. Cowan declined to comment.