Brooklyn Borough President Eric Adams is Meeting Change Head On
---
---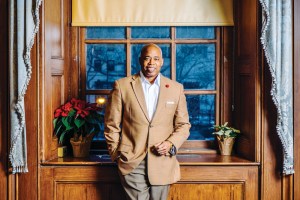 If tasked with reading Eric Adams' résumé, one might understandably feel lacking by comparison. The fourth child of six, son of a butcher and a housecleaner who called Brownsville, Brooklyn (and later Jamaica, Queens) home, he graduated first in his class with the New York Police Academy. Twenty-two years of service (and one master's degree) later, he left as a captain to spend seven years in the State Senate, representing Brooklyn's 20th District. In the year and a half that he's been Brooklyn Borough President—the first African-American to fill the role—he's been a strong champion of the affordable housing desperately needed for many of the 2.6 million people who live in Brooklyn.
New York State Senator Jesse Hamilton, who has worked with Mr. Adams in several capacities, including Superstorm Sandy relief efforts in Coney Island, describes the borough president as "a character of high moral fortitude, a rare commodity among elected officials."
But Mr. Adams' goal is to get things done, not be the good guy all the time. He succeeded Marty Markowitz, the stout politician who was the cheerful, gabby face of Brooklyn during his 11 years in office. During Mr. Markowitz's incumbency, "Brooklyn was in a terrible place," Mr. Adams said, which made Mr. Markowtiz's agreeable nature a good fit at the time.
"I'm probably more intense," Mr. Adams said. "Marty was loved by all, [but] I believe he avoided some of the controversial topics… I think you'd be hard-pressed, outside of the Barclays Center, to find any controversial issues that Marty embraced. I run for the controversial topics. I ask my staff… what are the hot button issues, and I run at them."
Roy Richter, the president of the Captain's Endowment Association of the NYPD, who worked with Mr. Adams when they were lieutenants in the NYPD, said that Mr. Adams was the same way during his time in the department.
"He was always one to voice his opinion. And his opinion and that of his constituents was often opposite [of] that of many officers in the police department," said Mr. Richter, who recalled a time when the then-commissioner came to address a group of newly promoted lieutenants, during which Mr. Adams asked a pointed and controversial question about what resources the upper echelons of the department planned to offer officers who consistently put time in outside of their work hours.
"Everyone in the room [agreed with Mr. Adams], but he had the tenacity to ask the question," Mr. Richter said.
One of the controversial issues Mr. Adams has tackled head on as borough president is Brooklyn's ongoing real estate face-lift—and the ensuing social disruption. In fact, he is on the front line of that process, holding residences in both Bedford-Stuyvesant and Prospect Heights, two neighborhoods that have been virtually transformed over the last decade.
At the Only Brooklyn Real Estate Summit last year, Mr. Adams gave a talk in which he recalled buying his Bed-Stuy property on Lafayette Avenue in 2003 while he was on the police force; his peers thought he was crazy. He recounted the crunching sound of stepping on the crack vials that littered the area.
But taking a chance on that property is "what [the real estate industry] is all about," he said in his speech. "A $300,000 property turns into over a $1 million property. Damn it, I had a vision, and those who lack vision are now looking from the outside while those of us who took the risk… are now benefitting… I have a true vision for the possibilities of Brooklyn."
When asked what his message is to Brooklyn residents who are wringing their hands at the changes that development have brought to the borough, he recalled a Broadway play he had recently attended called Clybourne Park. In an early scene, a white family was complaining about a black family that had moved on to the block, in a there-goes-the-neighborhood type of lament. In a later scene, which takes place in the same house, it is a black family that is discussing the arrival of a white family on the block—and the dialogue was practically identical.
"These communities are going to change," Mr. Adams said. "We have to learn to embrace [it]. What we want to do in Borough Hall is have a series of conversations around gentrification, around waking up and seeing that the neighbor who was next door to you for 40 years is no longer there… the new families and couples who are moving in are just as frightened as the old families who have been there a long time. The problem is that we think it's going to iron itself out on its own without conversations."
Leaving the situation to remedy itself, Mr. Adams said, "is a process that can drive a wedge in the community, and I don't want that to happen."
"When people talk about gentrification it indicates white people moving into a black neighborhood," said Mr. Hamilton. "It not a racial thing, it's an economic thing. You've got people from Manhattan moving into Park Slope, and people renting in Park Slope who are moving into Bed-Stuy because they want to buy, and houses there are cheaper."
Mr. Adams agreed.
"[In earlier times], flight was as much economics as race," Mr. Adams said. "[People] from those areas who could go to Ivy League schools wanted to leave the neighborhood. And they are still doing that, to their peril. When you look at areas likes East New York, there aren't too many Harvard grads that live on Logan Street… but these communities are going to double and triple in value."
Brooklyn's Future
The Kings County areas that Mr. Adams thinks have the most potential for development are East New York, Broadway Junction and Coney Island. A report released by his office at the end of 2014, titled, "A Roadmap to Real Affordability for Brooklynites," proposed as much. The report estimates potential for 600 affordable housing units in the 31-acre lot called Broadway Triangle. It also calls for the city to construct new sewers in Coney Island to accommodate future high-density development (to the tune of 4,500 housing units), as well as the transference of certain city-owned Brownsville property to Housing Preservation and Development in order to build more residences.
"Although Brooklyn real estate is at a premium, and people believe that there are no more great possibilities, I find that to be untrue," Mr. Adams said. "I think that East New York and Brownsville really offer some gems, if we just go and develop there. If we [met] infrastructure needs, we would see a great deal of development."
He said transportation is one of the most attractive things to New Yorkers, and that both East New York and Coney Island offer plentiful options.
"Plus, people always enjoy waterfront property," he said of Coney Island.
One undertaking Mr. Adams wants to kick off as soon as possible is the conversion of city-owned parking lots in Brighton Beach, Bensonhurst and Midwood. The first step in that process would be open discussions and focus groups within those communities about what should be done with the spaces, much like how the Brooklyn Army Terminal was handled.
There are already several major developments in the pipeline. Real estate development firm Two Trees is converting the old Domino Sugar refinery into a mixed-use project, which includes 2,300 apartments (700 that will qualify as affordable housing). The famous red-brick refinery itself will be converted into office and commercial spaces. (See the Sit-Down on page 16.)
Pacific Park, originally conceived by architect Frank Gehry and located near the Barclays Center, will be a mixed-use project of 8 million square feet, consisting of 15 buildings. The developer, Greenland Forest City Partners, describes it as "a dynamic new neighborhood." In addition to retail, commercial and residential spaces, there will be eight acres of open space made up of lawns, play areas and dog runs, as well as a health care center and day care and senior living facilities; 2,250 units will be considered affordable.
Affordable housing and senior living are equally important, said Mr. Adams, who wants Brooklyn to be a place where "seniors can age in place."
Mr. Adams describes himself as a strong believer in upzoning, something he feels would greatly benefit the four-mile Broadway stretch along Bushwick, Williamsburg and Bed-Stuy.
He said six-story buildings would be ideal for Broadway Junction, Atlantic Avenue and Empire Boulevard. "We don't want skyscrapers," he added.
Mr. Adams questioned why, in the past, six-story facilities were allowed to litter those areas, but six-story houses for families were never realized. He said that Empire Boulevard, for example, "has become the canyon for storage facilities."
But, perhaps little known to those who see him as build-hungry, Mr. Adams seems to have a sense of when development detracts from the community.
The Housing Preservation and Development recently released a request for quotation, or RFQ, to develop a portfolio of scattered sites in Brooklyn, which, at present, include sites that house 11 community gardens.
In a letter to the department's commissioner, Vicki Been, Mr. Adams wrote: "The affordable housing crisis continues to be a challenge for all Brooklynites. My office has been at the forefront of trying to address this crisis… However, I feel the…gardens…should be taken off the list of sites HPD has offered…"
"Community gardens are an important part of the affordable housing conversation," Mr. Adams said in regard to the letter, adding that they can improve the quality of life in a community. He envisions residents growing fresh vegetables to sell in local stores.
Knowing the Role
In 2013, the New York Post wrote "the much-disparaged office of borough president, which has been repeatedly targeted for abolition, is barely understood by most residents. Yet it is immensely important on precisely the issue that tends to most galvanize the electorate—land use. BPs not only recommend which projects be approved and which rejected, they appoint representatives to the City Planning Commission as well as most community board members, who advise on zoning and permits. They also have tens of millions of dollars to distribute."
Mr. Adams said that those who call for the removal of the borough president, "just don't get it."
He seems not to be indifferent to the particular power of which the Post speaks, and neither do stakeholders in Brooklyn real estate. Those associated with the real estate industry made up more of Mr. Adams' campaign donations of any other industry. A month after being elected to office, Mr. Adams appointed real estate mogul and founder of Rapid Realty, Anthony Lolli, to be his adviser (Rapid Realty made news nationwide last year after offering employees a 15 percent raise if they tattooed the firm's logo on their body.)
Like many of those who hold court in the public eye, Mr. Adams has waded through his share of controversy. (He ran unopposed after his opponent was disqualified for placing invalid signatures on the ballot.) But Mr. Adams' comfort with controversy seems to be what gives him fortitude in the face of any suspicion, criticism and acerbic articles from the media.
In 1995, halfway through his career with the NYPD, he co-founded 100 Blacks in Law Enforcement Who Care, an advocacy group for black police officers at a time when there was a spate of friendly fire shootings by white officers against black officers. During his time in the senate, he was an outspoken opponent of Stop and Frisk, and in a symbolic gesture he attended chamber sessions wearing a hooded sweatshirt following the 2012 killing of Trayvon Martin.
In cooperation with a 2013 federal investigation into her own corruption charges, former State Senator Shirley Huntley secretly taped her conversations with Mr. Adams. Ms. Huntley was later found guilty of stealing federal grant money meant for her nonprofit, and Mr. Adams was never found to be guilty of any wrongdoing.
It was his previous experiences in law enforcement and politics, Mr. Adams said, that have prepared him for the trials he faces now as borough president. His time in the NYPD had the biggest influence.
"Those 22 years of really having a front-row seat to despair [send you] into politics with a different outlook," Mr. Adams said. "The average New Yorker reads about the despair people are going through. But it's a buffer when you get it from a news story. It's a different experience when you're there, when you walk into an apartment and see people who have not had a meal, who are living under dire conditions, when you're arresting an 11-year-old boy who can't write his name… policing is a different animal."
He said that the diversity of his experiences was unmatched by his colleagues when he entered the Senate as a representative for the 20th District, a job that helped him understand the challenges of state government and the scope of the decisions he must now make to navigate the system.
That includes being in the mayor's ear often, and Mr. Adams said he "constantly reminds [de Blasio] how important Brooklyn is, because when he's finished, he has to come back home," referring to the mayor's Park Slope roots.
"We have a lot of problems in Brooklyn. Sometimes people want me to focus on one or two, but I'm like Jay Z, I've got 99 problems," Mr. Adams said.
Quickly, his media relations manager interjected, "Sir, don't finish that quote."