Ask For Janice: Cushman & Wakefield's International Woman of Mystery
---
---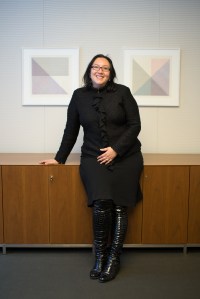 2:00 a.m. online grocery shopping; 3:00 a.m. unexpected call from India; 4:30 a.m. board meeting call; 5:30 a.m. wake up; 6:00 a.m. family yoga; breakfast; school drop-off; arrive at office.
Just another day in the life of global real estate investment market advisor Janice Stanton, when she's not traveling to Asia, the Middle East or some world capital.
These off-hour events may not all happen daily, but after 25 years in the real estate business, Ms. Stanton is ready for anything. Especially the new world order: "Capital doesn't sleep now," said the newly promoted executive managing director of capital markets at Cushman & Wakefield in a meeting at the firm's 1290 Avenue of the Americas headquarters. "Investment strategy plans used to be three or four years out, now they could be adjusted later in the week. Capital turns rapidly."
The velocity of capital is one of the biggest changes she's seen since she started her career at MetLife as a fiduciary in 1986. The other is the breadth of investment demand—from Russian oligarchs to Norwegian sovereigns to Asians benefiting from looser legislation. Everyone is seeking their own version of appropriate exposure.
"We see a lot of Russians looking for blue-chip stable assets," said Ms. Stanton. "We see Chinese investors increasingly interested in development, given the low yield levels on stabilized assets in gateway markets. It's not one-size-fits-all."
Ms. Stanton, 49, left stocks and bonds for real estate by the early 90s. Her first big project in the industry was as asset manager for 2.5-million-square-foot 1 Penn Plaza. "The building literally had more than a hundred tenants," she recalled. She joined C&W in May of 1998, and became more global in her career, in tandem with the markets.
"A lot of guys will make money for you but finding that good match is like a marriage; a good partner is not the same for everyone. Most investors from emerging markets are very comfortable with development and cyclicity, while investors from established, mature markets are more risk averse, looking for smoother growth and stability."
Currency, politics and culture shape perspective and approach—are you a flipper or in this for the long haul? Either way, matching client with opportunity is a skill she's honed, to say the least. "Janice is at the top of her game," said Bruce Mosler, chairman of global brokerage at C&W. "The more I worked with Janice, the more evident it was. She comes with such a grasp of the global marketplace, real estate fundamentals and underlying financial fundamentals."
In the past 10 years or so, the two have worked together on a variety of deals that included bringing them together as a team advising a sovereign wealth on global investment portfolios. Mr. Mosler functioned as New York City expert and Ms. Stanton as global expert, said Mr. Mosler, noting the firm's practice of bringing the best team together for every assignment, without regard to hierarchy.
If Mr. Mosler's admitted bias isn't convincing, there's this: Ms. Stanton is an oft-requested keynote speaker at events like AFIRE (Association of Foreign Investors in Real Estate) and MIPIM (Le marché international des professionnels de l'immobilier, or The International Market for Real Estate Professionals, a global property conference). And if a 15-foot portrait hanging over a stage doesn't illustrate authority and expertise, there's another thing: sovereign wealth funds come knocking.
"They have a policy of 'don't call us we'll call you,'" said Ms. Stanton. "So if they call you, you know you're the go-to. You don't pitch. They tap."
One such tap is to the tune of $7 billion, a current global deployment in capital by a Middle Eastern fund, that's been in progress for nearly 18 months. (C&W cannot share more details, per client agreement.)
Beyond conference-created advertising (she resisted the urge to take that banner-sized selfie home, though others took theirs), Ms. Stanton said the key to procuring clients is telling the truth. "I'm not saying people don't do that in general, but real estate is a cyclical industry. If you're really frank about where you see the industry—the strengths, the weaknesses, the opportunity—that resonates with people. I'm not a walking commercial for 'buy this now.' We're not a used-car dealership."
C&W was chosen by one sovereign wealth fund based on such truth; they were the only firm of eight to advise not to invest at the moment. "I started as a fiduciary, so I know what it's like to protect capital. If it's time to wait, they want to hear it's time to wait."
Patience is a virtue that both Ms. Stanton and her husband possess. They met and dated while she was attending Wellesley College, studying for a B.A. in Art History that yielded an offer to work at the Museum of Modern Art, which was a bit short on meeting financial needs. At the time, she was firmly disinterested in marriage or children, fearing jeopardizing her career. "He waited me out," she said of the Morgan Stanley alum (he retired eight years ago). And it paid off for everyone: Married for almost 20 years, she is the highest-ranking woman in C&W global capital markets.
She's also a recipient of YWCA's Academy of Women Achievers Award, and was a founding partner of Equinox Investments before she joined C&W.
The couple lives in Sutton Place with their son (see: family yoga, above). There, her bedside table holds a rotation of industry magazines, the Pulitzer-winning The Goldfinch, an iPad (see: grocery shopping, above) and her iPhone, the one tool she could not live without. The combined asset and curse has been forcibly removed from her person, by her husband, when she was in the hospital recovering from a hernia surgery.
That said, life-work balance is something Ms. Stanton is committed to, talking golf and fishing and cooking and other lessons with her family, though she jokes she's better suited for the math-and-debate team. Extensive travel (the family can hardly find a vacation location she has not already visited) and relationships have introduced her to countless customs that are truly foreign in the U.S., and New York City in particular. "I see other cultures accomplishing what they need to [without working nonstop]," she said.
Her sensitivity to other cultures—setting out crystal or china instead of disposables, knowing whether to shake hands or not, knowing when to be modest—is part of who she is: half-American and half-Chinese. Her 105-year-old grandmother still lives in Shanghai. Ms. Stanton has visited China since she was 12 and can speak to the dramatic changes there, an evolution that ranges from Mao suits to bottle service with sparklers at nightclubs.
Wherever she goes, Ms. Stanton is addicted to real estate ad booklets, especially when visiting her Naples, Fla. home. This "occupational hazard" has resulted in a few investment properties.
Not surprisingly, Ms. Stanton is sought out for advice at cocktail parties, too. "Always about residential," she said, laughing. A better conversation topic might be: How will ISIS change the risk profile of assets? "Some questions are so big they're hard to look at."
But she's not one to shy away or to get stuck. She considers her liberal arts education essential to her free association ability and her open-mindedness to change, major factors in her success. "Real estate is intuitive. You can look at a building and see why someone would want to buy it."
Her studies are ongoing. How to become the next go-to advisor to global real estate investors? "Pick up a paper every day. Try to figure out how changes in the world impact relate estate. Real estate is people."
Other people, that is. To those who suspect investment strategies are about self financial interest, Ms. Stanton shakes her head. "You're not going to be in business for long if you do that." Repeat business is imperative, especially for someone whose mother (a role model indeed—the first minority female actuary and the second female admitted to the Society of Actuaries) worked into her 70s. "When you love what you do, it's not a hardship." That one-way ticket to Florida will have to wait.