1 WTC Nabs More Finance, Tech Companies
---
---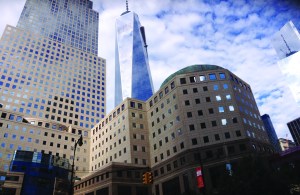 Two companies have inked deals at 1 World Trade Center as The Durst Organization and the Port Authority of New York & New Jersey continue to lure technology and finance firms into the Downtown skyscraper, according to the landlords.
Tinypass, an ecommerce software developer that specializes in paywalls, signed a lease for 4,936 square feet of pre-built office space in the building. Casablanca Capital, an investment advisory, inked a deal for 2,488 square feet of built-to-suit space. Both leases are for five years, the landlords announced, and both companies will be on the 46th floor. 
Karen Kuznick, an assistant leasing manager at The Durst Organization, represented the landlords in-house along with a team from Cushman & Wakefield. Freddie Fackelmayer, Zachary Price and Christopher Corrinet of CBRE represented Tinypass, while Peter Simel and James Emden of Colliers International represented Casablanca Capital.
The asking price for the pre-built space is $78 per square foot, according to a Durst spokesman.
They're the latest in the landlords' quest to fill up with technology, advertising, media and information, or TAMI, sectors. That started when powerhouse publisher Conde Nast announced it would leave 4 Times Square for 1.2 million square feet of office space in 1 WTC. The magazine publisher started to move into the skyscraper last November, and has officially settled in.
Digital gaming company High 5 Games leases 87,663 square feet between the 58th and 59th floors, according to the landlord. Technology advertising agency xAd leases 43,849 square feet—the entire 60th floor.
As downtown becomes more residential and home to technology companies, Mr. Price said Tinypass was drawn by "the opportunity the building presented and the fact that Lower Manhattan is not a 9-to-5 workplace anymore. It's the live-work-play environment."
Tinypass has already moved into the pre-built space, Ms. Kuznick confirmed, and Casablanca Capital's space should be done in the next few months. Durst has dedicated the 45th through 47th floors of the building to built-to-suit space—responding to any design at tenant might want. So far, it's been successful, Ms. Kuznick said.
"The momentum just continues," she said. "I think our small suite program has been so successful because it gives tenants the size to be in a building like this."