The Plan: 1400 Broadway [Updated]
---
---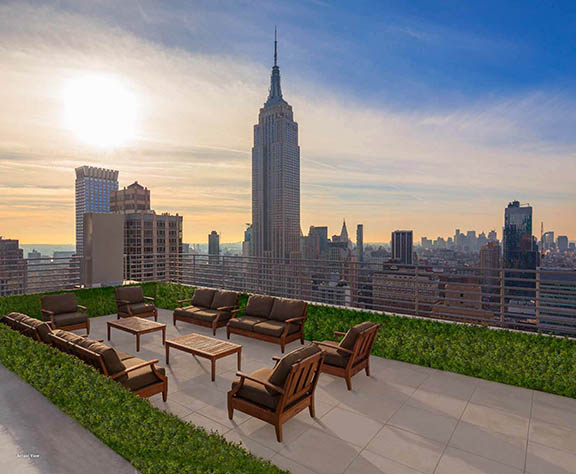 A penthouse suite with sweet views of the city is available for lease at Empire State Realty Trust's 1400 Broadway with a rent of $75,515 per month.
ESRT has converted the top two floors of the building between West 38th and West 39th Streets from multi-tenant space to one contiguous unit, with a newly added 1,000-square-foot terrace with views of the Empire State Building, Brooklyn and the Statue of Liberty.
"Part of what we do as owners is we work to consolidate spaces," said Ryan Kass, a senior vice president at ESRT.
Even when it's too cold to go outside, its future tenant can enjoy emperor-like views from the 14-foot windows in the 13,525-square-foot space. The ceilings are 19 feet high.
There were more than half a dozen tenants occupying the 10,714-square-foot 36th floor before ESRT combined with the 2,811-square-foot 37th floor. The top floor is only accessible via an internal staircase from the 36th floor.
"They were predominantly the old Garment Center showroom tenants," Mr. Kass said.
The annual asking rent is $906,175. Potential tenants have the option of including the 11,895-square-foot 35th floor in their lease.
Asking rents in the WiredNYC-certified Gold building are $67 per square foot, Mr. Kass said, adding that they have increased 10 percent over the last year.
The building is home to OnDeck Capital, a financial firm that last December had the largest New York City tech initial public offering since 1999. Other tenants include Kohl's, Burlington Coat Factory, VeriFone Systems and The Interpublic Group of Companies.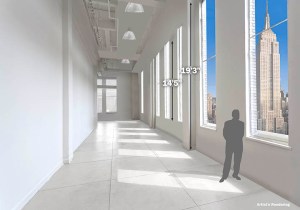 "That Broadway office corridor has been transformed of late. It has really gone from being the Garment Center to one that appeals to office tenants," Mr. Kass said, citing the pedestrian mall the city created at the foot of the building as helping to attract more office space demand from high-profile companies.
Thus far, Mr. Kass said, ESRT has seen all sorts of firms looking at the space, from architectural and design companies to TAMI tenants.
"I think, building on the successes we've had to date, we see every tenant in every industry in our portfolio," Mr. Kass noted.
Updated: This story was edited to reflect that The Interpublic Group of Companies is remaining a tenant at 1400 Broadway.