Herald Square Building 100 Percent Leased to Childrenswear Companies
---
---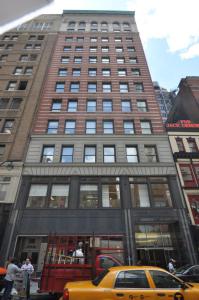 Five childrenswear companies have committed to a total of 5,296 square feet at 34 West 33rd Street, according to a press release issued by Adams & Co., the firm that represented the building in these transactions.
"We're 100 percent committed to leasing only to childrenswear to create the go-to location for the childrenswear market in New York," said David Levy, the principal of Adams & Co. "Right now, there are 45 childrenswear companies in the building and the building is 100 percent leased."
The largest of the five leases was Yoka Showroom re-signing a lease for 1,645 square feet at the property between Fifth Avenue and Avenue of the Americas. The company will likely use to the space for offices and a showroom for its children's clothing company. The asking rent was $48 per square foot.
The other transactions include Babyvision, which signed a new lease for 993 square feet, Mayra's Collection, which penned a renewal for 938 square feet, Babyfair, which nabbed a renewal for 885 square feet and Ali's Market, which renewed a lease for 835 square feet.
Adams & Co.'s David Levy and Brett Maslin represented both the landlord, Arcade Building Associates, and all of the aforementioned tenants in their deals.
The 12-story property, also known as the Childrenswear Center, was built in 1908 and includes 158,200 square feet.