Fourth TAMI Tenant Takes Space in West 36th Street Building [Updated]
---
---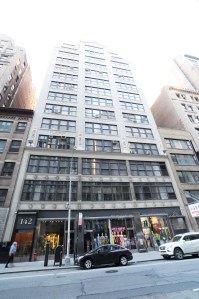 The U.S. division of British publishing and distribution group Quarto Publishing Group USA is the fourth TAMI, or technology, advertising, media, information, tenant to sign a lease at 142 West 36th Street since Herald Square Properties and The Davis Companies bought the building about a year ago.
Commercial Observer has learned that the tenant has taken 7,910 square feet of pre-built space at the 17-story office building, which is between Broadway and Seventh Avenue, in a 10-year deal. Asking rents in the building are between $58 and $60 per square foot.
VTS (formerly called View the Space) inked a deal for 7,400 square feet on the entire 12th floor, Elite SEM took 7,160 square feet on the entire 11th floor and Flashtalking, an online advertising technology firm, took 7,910 square feet, or the entire 10th floor, last month.
"This is yet another lease that supports our goal to reposition 142 West 36th Street as a TAMI center in Midtown Manhattan," said Gerard Nocera, a principal at Herald Square Properties, in prepared remarks "Our very first improvements were infrastructure upgrades and a lobby renovation. But a central location, great floor plate, abundance of natural light and strong leasing team are really making the difference."
CBRE's Paul Amrich, Neil King and Lindsay Goddard represented the landlord in the Quarto deal. Owen Hane of Cushman & Wakefield negotiated on behalf of the tenant.
"Quarto was in the same building in Midtown South for a long time, but with the exponential rise in rents in that area, and changes in the publishing industry, Quarto needed to find a more cost-effective location," Mr. Hane said in prepared remarks via a spokeswoman. "We educated them on the various submarkets in Manhattan, including Downtown, and, after an exhaustive search, chose 142 West 36th Street.  I had recently worked with Gerry Nocera and Herald Square Properties on a similar requirement in another of their neighboring buildings, and because they were so easy to work with, very fair in their dealings with the tenant, and did such a nice job with the build out, I suggested to Quarto that they focus on the 142 West 36th Street location. The building is well located, with close proximity to public transportation and ownership is building out the space for Quarto according to their own specifications."
Quarto Publishing Group will be relocating from 276 Fifth Avenue this spring, a press release from Herald Square Properties indicates.
Update: This story was edited to include a comment from the tenant's broker.