Caerus Group Acquires Washington Heights Church With Unique Plans
---
---
A decades-old city church is about to take on a new form.
Leo Tsimmer's Caerus Group acquired the land and development rights around the Wadsworth Avenue Baptist Church in Washington Heights for an estimated $11 million and will build a seven-story residential property there, two people with knowledge of the deal told Commercial Observer.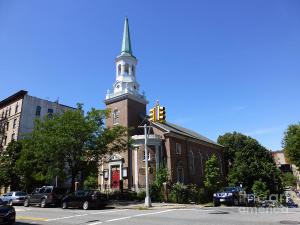 The developer purchased the land and 97,000 buildable square feet "in exchange for the delivery of an upgraded religious facility on the ground floors of the new development," one person in the know said on background. The deal was recently approved by the New York State attorney general's office, that person said.
Once completed, the property at 206-212 Wadsworth Avenue will contain 70-plus residential units and a parking garage for residents built around the renovated church.
The income-producing portion of the land is valued at about $135 a square foot, while the non-incoming-producing portion that the church will retain is valued at $100 a square foot, another person familiar with the transaction said.
"The church wanted to sustain its operations, but was limited in its financing," that person said. "This deal helps them accomplish that."
It is unclear if the developer will build rental apartments or condominiums at the recently acquired property. Mr. Tsimmer of Caerus declined to comment. A representative for the church was not immediately available.
Construction is set to begin in the next six to eight months with an estimated project time of about two years, according to both anonymous sources. There is no debt in place as of now and the developer is expected to seek construction financing in the upcoming months, they said.
The 89-year-old Wadsworth Avenue Baptist Church, which sits on the corner of West 184th Street, hit the market in March 2014 with an $8 million price tag, as Bloomberg News first reported.
"This the last underdeveloped neighborhood in Manhattan, so the benefits of the project are obvious for all of the parties involved," one of the people in the know told CO.