BioPharm Company Leases Space at 2 Gansevoort Street
---
---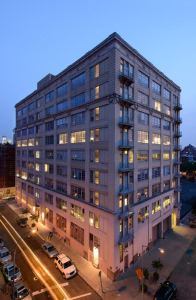 Coronado Biosciences, a Massachusetts-based biopharmaceutical company which helps develop drugs for autoimmune diseases and cancer, has signed a 15-year lease for 23,000 square feet on West 13th Street, according to a press release issued by William Kaufman Organization.
The company will take the whole ninth-floor penthouse at 2 Gansevoort Street, also known as 320 West 13th Street, and is expected to move in at the end of 2015.
Newmark Grubb Knight Frank's Brian Waterman and Lance Korman represented the tenant in the transaction. Michael Lenchner of Sage Realty Corporation represented the building's ownership in-house. Asking rents at the property were above $110 per square foot.
Built in 1912, the 210,000-square-foot property has been owned by William Kaufman Organization for close to 70 years.
Jonathan Kaufman Iger, Sage Realty's chief executive officer, said in prepared remarks that he is "extremely pleased to welcome this prestigious biopharmaceutical company to our building, which is situated in one of the most exciting neighborhoods in Manhattan." He noted that the property's recent upgrades and location in Silicon Alley have lured tenants to the building.
NGKF declined to comment on the deal.
Earlier this year, CO reported that Theory had signed a 16-year lease for 79,000 square feet at 320 West 13th Street.