Allied Works Architecture Opts to Stay in NoMad
---
---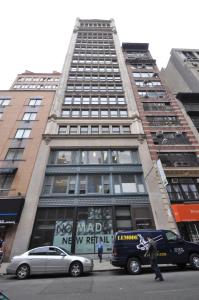 Allied Works Architecture has re-signed a lease for its NoMad space at 12 West 27th Street, according to information provided by CBRE.
The architecture firm will continue to lease its 5,458-square-foot space on the 18th floor of the building, owned by Himmel and Meringoff Properties. This is the second time the tenant has renewed this lease. 
"Ten years ago, we found this space. It was not even on the market. It's on the 18th floor and it's pretty spectacular," said CBRE's Matthew Bergey. 
Mr. Bergey, along with Stuart Siegel and Brett Kaye represented Allied Works in the transaction.
Meringoff Property's Mark Stein represented the landlord in-house. Neither party could immediately be reached for comment.
Mr. Bergey declined to disclose asking rents, though he said that asking rents on the upper floors of this property are usually in the mid to high $60s. Earlier this year Commercial Observer reported that trendy spinning chain SoulCycle signed a lease for 6,000 square feet at the building with asking rents of $125 per square foot.
Allied Works Architecture a 40-person firm with offices in both Portland, Ore. and New York City. The New York office has 15 architects and works on high-end residential, cultural and commercial buildings and academic institutions. Its practice has helped design the Contemporary Art Museum St. Louis, the Dutchess County Residence Guest House and 2 Columbus Circle, among other properties. The company did not immediately respond to a request for comment.
Located between Avenue of the Americas and Broadway, the 18-story 12 West 27th Street  was built in 1912 and includes almost 100,000 square feet of space.
"At the end of the day, image is important and [the principal] really loves the NoMad area," Mr. Bergey said.