AKOO Clothing Signs 12-Year Lease at 231 West 39th Street
---
---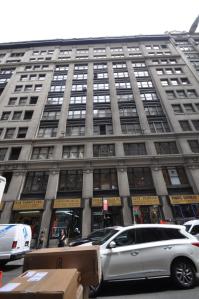 AKOO Clothing signed a 12-year lease at 231 West 39th Street for 9,355 square feet previously occupied by Genevieve Anderson, according to The New York Post which first reported the story.
AKOO (which stands for A King of Oneself) is a menswear brand founded by Grammy-winning artist T.I. The firm will be joined by its owner RP55 Group, a manufacturing and distribution company, in the space.
"AKOO/RP55 Group is an extremely established high-end brand that is popular with many celebrities, making it a great fit within the current tenant roster at 231 West 39th Street," said Jeff Buslik of Adams & Co. in a statement. Mr. Buslik represented the landlord in the transaction.
Michael Yadgard of Maxwelle New York represented the tenant. Mr. Yadgard could not be reached for comment. Asking rents were $45 per square foot, according to a press release issued by Adams & Co.
Built in 1908, the 12-story, 200,000-square-foot property is home to more than 400 different fashion lines, including Hudson Jeans, Milly and Shoshanna. According to the building's website, the owners—231/249 West 39 Street Associates—are 100 percent committed to keeping the tenancy limited to exclusively apparel showrooms. Accordingly, the AKOO space, located on the second floor, will be used as a showroom. The move-in date is yet to be determined.