We're Heading to MBA CREF 2015
---
---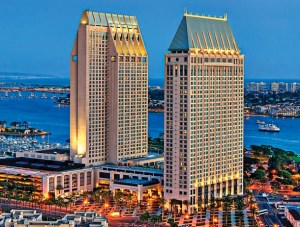 The Mortgage Bankers Association's CREF/Multifamily Housing Convention & Expo 2015 kicks off this weekend in San Diego and Mortgage Observer will be there to scoop the latest market trends and deals.
The conference, which runs from Feb. 1 to Feb. 4 at the Manchester Grand Hyatt, will touch on the growing U.S. multifamily market and FHA transformations, the current CMBS landscape, global impacts on commercial real estate finance, and bank and life insurance lending in 2015, among other topics.
"As the largest national gathering of CMF debt professionals, I expect we will see a lot of deals getting done in San Diego as borrowers are looking at a wide array of capital sources and lenders look to deploy their capital," MBA President and CEO David Stevens told MO about the upcoming event.
This year's conference is expected to draw more than 2,500 attendees, according to MBA's website, down slightly from last year's conference in Orlando, Fla., which pulled in close to 2,800 people.
Among this year's attendees are representatives from nearly all of the major commercial real estate lending and brokerage firms, as well as Oakland A's General Manager Billy Beane, who is scheduled to deliver an opening keynote speech on Monday morning. Unfortunately, that panel is closed to the media, but we'll see what we overhear.
Follow us on Twitter at @mortgage_nyo for highlights of this year's event and check our website for updates on the conference.
For anyone who would like to chat with us about news—including trends, deals and big people moves—please email Damian Ghigliotty at dghigliotty@observer.com.