Steinway, Durst Strike Closing Note in Midtown [Updated]
---
---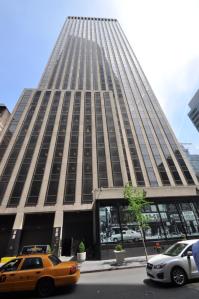 The Durst Organization and 163-year-old piano makers Steinway & Sons have finalized the 15-year, 40,501-square-foot deal for a new ground-floor showroom and retail space and 33rd floor offices at 1133 Avenue of the Americas, Durst and Cassidy Turley announced yesterday.
Steinway moved out of its longtime building at 109 West 57th Street before the end of the year and had been near signing the deal with Durst this fall, as The New York Times reported. The company, which sold the building last year just before the Paulson & Co. hedge fund bought the company itself, will operate a pop-up at another Durst property starting the week of Jan. 5 while architect Annabelle Selldorf builds out its new space, Durst officials said.
"We are proud to have as distinguished an organization as Steinway & Sons join us at 1133 Avenue of the Americas," said Jonathan "Jody" Durst, Durst's president, in a prepared statement.  "This modern classic will make a beautiful gallery and home for the world's finest piano maker. In addition, we are very excited that Steinway will use our retail location at 1155 Avenue of the Americas  as their 'Pop-Up' shop until their space at 1133 is ready. Steinway's presence on [Avenue of the Americas] is a fantastic addition to the neighborhood."
Thomas Bow, Durst's director of leasing and Rocco Romeo, the landlord's senior leasing manager, represented Durst in the negotiations, while Cassidy Turley's executive vice chairman and principal, Richard Bernstein, and his colleagues Susan Kahaner and Jennifer Ogden negotiated on behalf of Steinway.
"Cassidy Turley's team identified an opportunity with Durst at 1133 Avenue of the Americas as a fantastic location for Steinway's new home," said Mr. Bernstein in a prepared statement. "Steinway's new corner location is more centrally located, allowing the company to capture a new audience while still being accessible to its existing customers and Steinway artists."
Steinway staff members have already occupied the 23,000-square-foot office space and they hope to open the new 18,000-square-foot flagship by the end of 2015, Durst officials said, noting ground-floor asking rents of $600 per square foot and $125 per square foot for a concourse level. The officials didn't disclose the office asking rent, but Class A office buildings in Midtown command an average of $79.59 per square foot, according to the latest quarterly report from Cushman & Wakefield.
The International Center of Photography announced this past fall that it will relocate in 2015 from the future ground-level Steinway space at the Durst property at the corner of West 43rd Street to the Bowery.
Update: This story has been updated to include retail asking rents and tenant move-in dates.