SL Green Secures Dramatic Rent Increase in Diesel Deal
---
---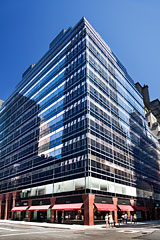 Landlord SL Green (SLG) Realty Corp. has scored a sizable rent hike in a Midtown space with new tenant, Diesel.
Diesel's rent for its new store at 625 Madison Avenue has climbed 83 percent from that paid by the previous tenant, crystal retailer Baccarat, according to a source, citing a question asked of Andrew Mathias, SL Green's president, during today's earnings call. A spokesman for the landlord declined to elaborate on the negotiations.
The building at 625 Madison Avenue between East 58th and East 59th Streets is now at 100 percent occupancy after the high-end denim and fashion retailer, Diesel, signed a new 10-year lease for the last retail space available in the building, according to a press release from SL Green.
Asking rent for the space was $1,400 per square foot. Diesel's space is 4,400 square feet, with 1,400 feet of it below ground, according to Jeff Roseman of Newmark Grubb Knight Frank, who represented the landlord in the negotiations.
"It's a huge win for south of Barney's on Madison Avenue," Mr. Roseman told Commercial Observer. "Diesel coming in there just shows that Madison is strong now all the way through."
Brett Herschenfeld, managing director of SL Green Retail, said in prepared remarks: "The transaction demonstrates our ability to use our portfolio's scale to expand existing relationships with valued tenants. It also underscores the overall success of our retail investment program, which has complemented our core office business with strong returns."
Other tenants in the building include Fratelli Rosetti, Neiman Marcus, Ralph Lauren, Stuart Weitzman and Philipp Plein, according to a press release from SL Green.
Robert Gibson of JLL represented Diesel in the negotiations. He was not immediately available for comment.
Also today, SL Green announced that Austrian crystal maker Swarovski signed an 11-year-deal for 17,850 square feet at its 10 East 53rd Street, Commercial Observer reported.