JFK Airport to Get ARK for Animals in 2016
---
---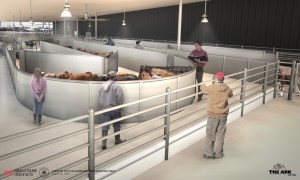 John F. Kennedy Airport has added an ark to go with all its airplanes.
The Port Authority of New York & New Jersey agreed to a 30-year lease with ARK Development to develop, construct and maintain a $48 million, 178,000-square-foot facility to provide accommodations, examination and medical treatment for animals and an air cargo handling service at JFK, officials at ARK, a subsidiary of Racebrook Capital Partners, announced today.
The project, which ARK officials describe as the first of its kind at any airport in the world, will open in the first quarter of next year in Cargo Building 78 and generate over 180 jobs and an estimated $108 million in revenue for the Port Authority, Racebrook Chairman John Cuticelli and ARK managing director Aaron S. Perl told Commercial Observer.
"This had to be a real estate deal in order to make it happen," Mr. Perl said. "Essentially, it was bringing together the private and public sectors together to do what the city and state wanted to do at JFK Airport but didn't want to do themselves."
Company officials negotiated over the past three years with Port Authority officials to clinch the deal, which the two sides signed on New Year's Eve, Mr. Perl said.
"Redeveloping cargo infrastructure and growing the cargo pie at New York and New Jersey's airports is vital to supporting thousands of jobs and hundreds of millions of dollars in economic activity for the region," said Port Authority executive director Pat Foye said in a prepared statement. "ARK's investment of $48 million into JFK will transform an airport structure that has been vacant for nearly 10 years into a world-class specialty cargo facility, and the agreement guarantees the Port Authority more than $100 million in revenue without any additional capital investment."
As part of the arrangement, ARK inked a sublease for about half of the facility to Consolidated Aviation Services to operate a facility for receipt, storage and distribution of non-animal air cargo. The company also signed Paradise 4 Paws for a 20,000-square-foot pet resort facility on the site, the company officials said.
The remaining footprint of the facility will provide the airport with a U.S. Department of Agriculture-approved quarantine space for the import and export of livestock, horses, pets and birds. The Wall Street Journal first reported the agreement.