Under Construction: The Jerome L. Greene Science Center and Lenfest Center for the Arts
---
---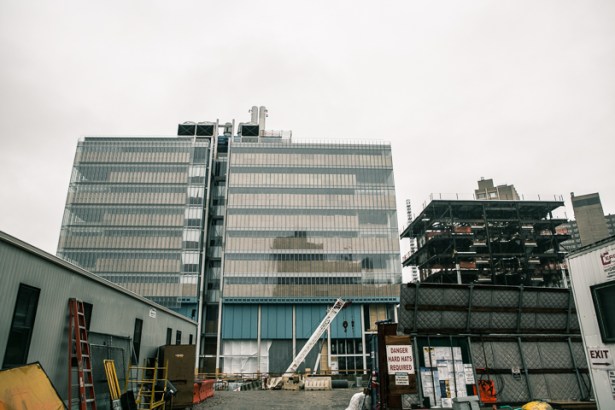 The gates at Columbia University's main campus on Broadway and 116th Street send a strong message: students are welcome and strangers stay out.
But Columbia's new Manhattanville campus, stretching from 129th to 133rd Street west of Broadway, now under construction, is steered by a different philosophy.  Its goal is to interact with the community and enhance it, rather than keeping out residents and city dwellers. 
Columbia and its master planners "understood that in today's context, not 100 years ago, good neighborhoods thrive with many activities on street level," explained Philip Pitruzzello, Columbia University's vice president for Manhattanville Development. Architect Renzo Piano's design encourages making buildings accessible on the ground floor and often relying on natural light.
Two buildings (both topped out) are currently under construction: The Jerome L. Greene Science Center at Broadway and West 129th Street and the Lenfest Center for the Arts at West 125th Street between Broadway and 12th Avenue.
Each building has different purposes and therefore distinctive designs. The science center, a nine-story, 450,000-square-foot structure, is an all-glass building suffused with natural light. The arts center, 50,000 square feet and eight stories, contains performance venues where light would obstruct not help; it consists of metal and some glass with a transparent lobby.
Prior to Columbia's extending its campus north, Manhattanville operated as a no man's land. Besides containing Manhattanville Houses, a public housing project with about 2,700 residents, it consisted of mostly warehouses, storage centers and parking lots. It was so underutilized that Mr. Pitruzzello said it had no streetlights and limited sidewalk space.
Retail stores will be rented out on the ground floor of several Manhattanville buildings, creating a greatly welcome street life. Though no leases have been signed, Mr. Pitruzzello envisions that Columbia would seek out bookstores or cafés and espresso bars with outdoor tables, where "people could sit at a sidewalk table in good weather and dine or grab food and go."
Denizens of the neighborhood will be engaged via active programming through the education center, involvement with local elementary school classes and attending the Brain Expo in March or galleries at Lenfest.
The Greene Center, which specializes in post-graduate students, stresses collaboration. Scientists and researchers are encouraged to interact in gathering rooms, conference centers or shared spaces. To encourage that, some floors are connected by staircases. Moreover, MBA majors can meet with scientists to discuss entrepreneurial projects, enhancing cross-pollination.
Besides the two new buildings being constructed, Columbia already renovated the former Studebaker building on West 131 Street, where cars were sold, but not assembled. Over 800 of Columbia administrative employees are already working there.
The neighborhood is already changing. People can walk to West Harlem Waterfront Park or dine at Dinosaur BBQ or Harlem's Floridita on 12th Avenue. "It's now a place people want to walk through, rather than around," Mr. Pitruzzello said.
The Greene Center is slated to open fall 2016 and the Lenfest Center later that year.