SushiSamba Investor to Open Spanish Eatery in Old PAS Space [Updated]
---
---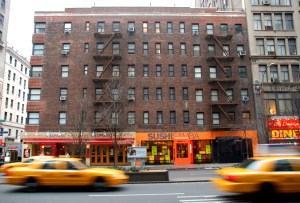 One of the investors in SushiSamba, which closed its Park Avenue South flagship in the summer, will be opening a Spanish restaurant in the Gramercy Park area space in the spring of 2015, Commercial Observer has learned.
SushiSamba, serving a blend of Japanese, Brazilian and Peruvian cuisine, was in 2,500 square feet of ground-floor space at 245 Park Avenue South between East 19th and East 20th Streets for more than 15 years until the expiration of its lease on June 30, according to information provided by Jed Sutton, executive assistant to Ofer Yardeni, co-chairman and chief executive officer of Stonehenge, the owner of the building. The residential portion of the building, with an entrance on East 20th Street between Park Avenue South and Irving Place, uses the address 8 Gramercy Park.
Simon Oren, owner of  L'Express, which is also in the Stonehenge Park Avenue South building, and Barbounia across the street, signed a new 12-year lease at 245 Park Avenue the first week of October, Mr. Sutton said. The deal was negotiated by Eyal Reggev, the president of Stonehenge, before the space was put on the market.
"They are one of the best restaurant operators in New York City, and we are positive the new restaurant will be another success," Mr. Reggev said.
Jason Gohari, the director of leasing at Stonehenge, said the operator hasn't yet determined the name of the restaurant and declined to indicate the rent.
There are six operating SushiSamba restaurants, one each in the West Village, Chicago, Miami Beach, Coral Gables, Las Vegas and London.
Following the Park Avenue South restaurant closure, a spokeswoman for Samba Brands Management emailed CO: "…we decided not extend as we are looking for a new/larger space. West Village [had an] over $1 million renovation last year and will remain open…The Park Avenue location is too small for our future plans, and we are currently on the lookout for the new space in New York City."
Samba Brand Management didn't immediately respond to a request for comment this morning.
Update: This story was edited to clarify the ownership of the new restaurant.