IQPC Renews and Expands Lease at 535 Fifth Avenue [Updated]
---
---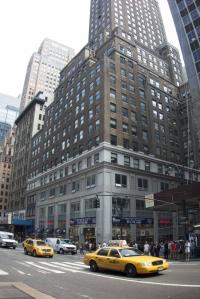 IQPC has renewed its lease at the Moinian Group's 535 Fifth Avenue for an additional 10 years while expanding its square footage in the building, Commercial Observer has learned.
According to a press release issued by the Moinian Group, the company has secured 28,340 square feet on the entire eighth floor of the property, as well as portions of the ninth and 10th floors.
The building at 535 Fifth Avenue is a 36-story building that sits between East 44th and East 45th Streets. It includes roughly 332,000 square feet of space; the press release noted that the company has secured north of 120,000 square feet of leasing in the building this year.
Cushman & Wakefield's Mitchell Arkin, Myles Fennon, Haley Fisher, Remy Liebersohn and Adam Nelson represented the Moinian Group in the deal. Newmark Grubb Knight Frank's Noel Flagg and E.N. Cutler represented IQPC. Neither party responded to a request for comment on the length of the lease.
The asking rent was not immediately available, though last year Commercial Observer reported that the rent at the property averaged in the mid-$50s per square foot.
"After testing the market and exploring alternatives, the tenant decided to renew its lease at the building due to the central location, first-class ownership and the ability to expand into contiguous space," said Mr. Arkin in prepared remarks.
Update: This story has been edited to include the correct name of the tenant. A press release issued by the Moinian Group indicated the wrong company.