High-End Designer to Stay Put in Garment District
---
---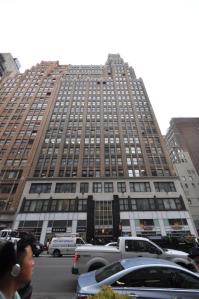 Luxury clothing and accessory design company Adrienne Landau will remain in its 13,589-square-foot headquarters on the 21st floor of Kaufman Organization's 519 Eighth Avenue through a five-year renewal, Commercial Observer has learned.
The fashion company offers fur outerwear and fashion accessories like silk scarves and has outfitted celebs like Lady Gaga, Madonna and the late Joan Rivers. Its showroom and office space will stay between West 35th and West 36th Streets in the 349,000-square-foot building with asking rents in the low-$40s per square foot, Kaufman officials said.
"The Kaufman Organization and Adrienne Landau Designs have a long and fruitful relationship—keeping such a prestigious tenant at 519 Eighth Avenue was a priority for us," said Steven Kaufman, the president of Kaufman, in a prepared statement. "The company's existing space on the 21st floor affords Adrienne Landau and her team the opportunity to continue to create timeless and sophisticated pieces. Additionally, the building's central location—a Garment District staple—provides the company's clients with easy access to Adrienne Landau Designs' showroom."
Mr. Kaufman and Barbara Raskob, Kaufman's director of leasing, represented both sides in the transaction.
Tenants such as Printech Business Systems, Legacy Builders, Pearl Studios NYC, Vanguard Direct and Teach for America have spoken for all available space in the fully-leased 26-floor property, Kaufman officials said.